We have dabbled earlier with ten of the grooviest cat furniture items making the design front pages. This time around we will focus more on cat houses and conscientiousness. Why conscientiousness? Well, because all of the incredible creations mentioned here were crafted (free of cost) by architectural firms from around the world – as custom-built shelters for stray and even feral cats, and also as furniture items for us humans. These nifty cat house designs are expected to boost some funds for a non-profit organization Architects for Animals that raises awareness about animals and how they can be provided with low-impact, low-cost shelters.
1) The 'Rib System' from Formation Association + Edgar Arceneaux –
The Rib System cat house is tailored to the bone structure of a cat. To that end, each of our feline friends have flexible clavicle bones that allows them to move between recesses that are as small as their heads. This particular design takes advantage of the animal's body flexibility with its slightly convoluted structure that gives the cat the opportunity to easily take shelter inside the form, thus effectively shielding it against bigger 'bullies' and predators. And, it is also a sitting bench for us!
2) Cat Chalet by Space Int'l –
Stylish, abstract and laden with (presumably) artificial grass on the inside, the aptly named 'scratch friendly' Cat Chalet would surely be a slice of heaven for both domesticated and undomesticated species. As for its 'humane' nature, the design can be used as an avant-garde lounge chair in our living rooms.
3) Cat Cube by Standard Architecture Design –
Wood gives way to concrete in the Cat Cube compact furniture. According to the designers, the thick concrete shell has a high thermal density, which allows it to absorb heat during daytime, while mitigating against coldness. And during the night-time, this accumulated heat is gradually released inside the box, thus keeping your cat snug and cozy all throughout the day.
4) Cat's Cradle by DSH Architecture –
Strings! The Cat's Cradle supplies its feline occupant with hours of fun and satisfaction with its assortment of woven strings to scratch. And when the cat is tired, the design provides the animal with a dappled shading mechanism that covers many of the circular loops. And, in case you are wondering – yes, the interwoven surfaces can also be used as human lounge seats in porches and balconies.
5) The HOK cat shelter –
A labyrinth of passages with translucent facades – the HOK cat shelter is sure to sate your cat's curiosity with its interconnected forms. These passages are actually modular in design, and can be incorporated by the patron to make way for a 'home within a home', while also serving as modernist 'sculptural' piece within your home.
6) onCATenate by Lehrer Architects –
And since we brought up decor items, the onCATenate goes beyond the realm of organization to emerge as an abstract yet geometrical art installation that doubles up as a cat play center. According to the architects, the design is an artistic twist on the white angles by connecting them together to form a "space in light" that entices both cats and humans.
7) Kitty La Tourelle by Wolcott Architecture –
Inspired by the works of architect Rodney La Tourelle, the Kitty La Tourelle flaunts its vibrancy with aplomb. The kaleidoscopic arrangement with its hollow compartments is pretty akin to Lego bricks. And other than posing as a collective cat residence, the installation can also be used as a multi-seat system within our living space.
8) Kitty Condo by RNL –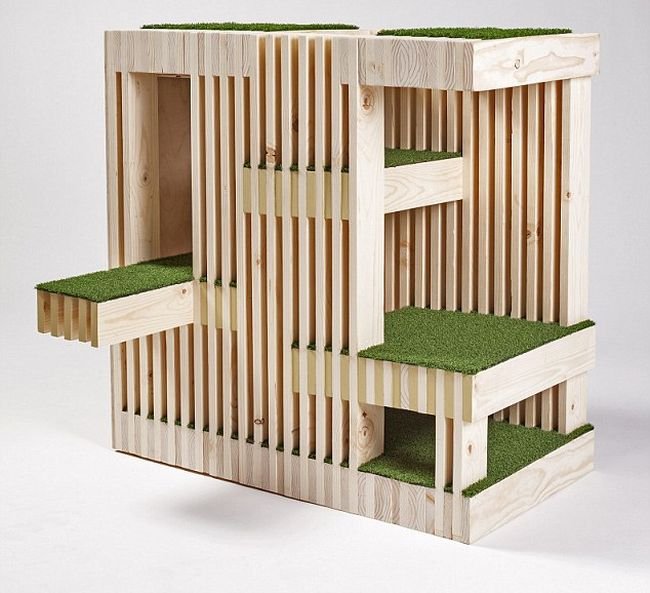 Vertical recesses, turf-lined vantage points and a general sense of solidity – yup, this surely is a condo design…for kitties. The hidden inner 'halls' of the collective cat house are protected by 23 layers of wooden slats that keeps your furry companions away from harm's way, while also providing them with insulation for outdoor micro-climate.
9) Color block by D3 Architecture –
Constructed from recycled shipping pallets that were salvaged from local businesses, this multi-leveled design offers plenty of 'perching points' for your curious cat. The projecting pallets can also be used as shades and even shelters (by virtue of the spaces between two pallets) by the flexible kitty – thus alluding to the composition of "individual and distinct spaces".
10) Rubber Fishy by NAC architecture –
Once again showcasing the constructive side of upcycling, the Rubber Fishy is made from discarded objects like rubberized samples, scraps of plywood and even carpet tiles. This 'waste not, want not' dictum serves as a positive statement of architecture in our contemporary 'throwaway' culture.