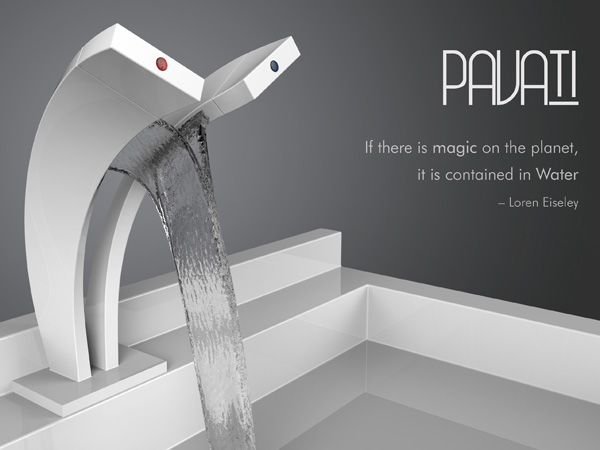 If only art had its practicality, we 'laymen' might have appreciated it! Well, the above pictured Pavati Tap shines in this exclusive capacity, by deftly bridging the gap between art and purpose. The wondrously conceived brainchild of designer Salmon Nortje, the 'sculptural' faucet incorporates two water jets that emerge from a seamlessly shared form.
These water jets comprise of both hot and cold water streams that gorgeously combine and cascade in a Y-shaped pattern from the elegant crane-like tap. The flow of these jets are also regulated in a tepid manner by the faucet mechanism, thus resulting in a comfortable temperature and feel when they splash in our hands.
Of course, this scope of aesthetic excellence is complemented by the imbibed technology of the entire contrivance. In this regard, the Pavati Tap utilizes conventional parts and components that makes its installation much easier with standard sink setups. Moreover, the 'on-board' temperature dials account for the intensity and heat parameters of the dual stream. In essence, the micro-waterfall serves as a visual indicator to the current temperature of the water flow.
So, at the end of the day, the artistic stream is actually a practically contrived water-flow that combines both hot and cold water. This not only satiates our desire for visual glory but also caters to our requirement of soothing warm water when going through those winter-day hand washing sessions.
Via: Roomed