Inventions that make life easy, offer a happy respite from the otherwise boring routines. And when you get to hear about them, most of us go – 'Why didn't I think of that? ' By making a few small changes and additions, we can save time, effort and make our lives much more comfortable.
We are today sharing ten such inventions with you. Introduce them in your homes and witness the efficiency go up. We have simple inventions that can be initiated in the laundry, your kitchen or even in your living room. Have a look, and we bet they are sure to impress you.
1. The folding laundry basket
Keep it in your laundry. Use it to take out fresh smelling clothes from the drier. It is made out of top quality plastic that will keep looking good for years to come. It also has a handy side pocket to put your detergent and softener. Once your laundry is done, collapse it in the middle and store it. It becomes so compact that it can even fit between the washer and the drier.
2. The under cabinet drawer for knives
If you're as passionate about your knives, as your food, then read on. Your knives can be kept neatly and safely in a drawer under your cabinet. This way they stay out of the reach of children and are tucked away safely in a drawer.
3. The faucet shelf to keep your basin tidy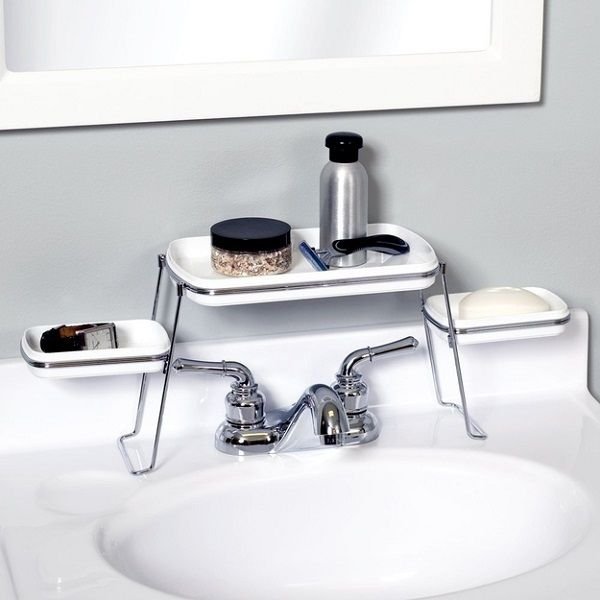 If you want your faucet and the basin to look dry and clean at all times then go get a faucet shelf today. The bathroom will instantly become clutter free and look extremely tidy. It is a great invention to make use of the little space in the best possible way. Now all your expensive toiletries and vanities will remain clean and look chic.
4. Keep the curling iron out of the way with this holster
Have you always wasted time looking for a place to put your hot curling iron on. Fret no more. This modern silicon holster makes curing and blow drying so much easier. Just drop your blow drier or iron right into it, even when it is hot. The design of the holster is such that it can be stuck to any surface instantly.
5. The must- have swivel cabinet
Design a swivel unit combining different pieces of furniture into a single slim unit. There can be a mirror on one side and coat rack on the other. The insides can be used as storage for books or papers. Keep as many shelves as you want. And they all are sure to fill up in record time. It is a must have for large families.
6. The couch arm for your wine and coffee
If your idea of a perfect afternoon is a big mug of jasmine tea, with a bestseller, on your favourite couch. Then go ahead and spoil yourself more with this very stylish couch wrap in wood. Why go to the table when it can come to you. Place your coffee mug on it, without worrying about spilling.
7. The very useful cord balls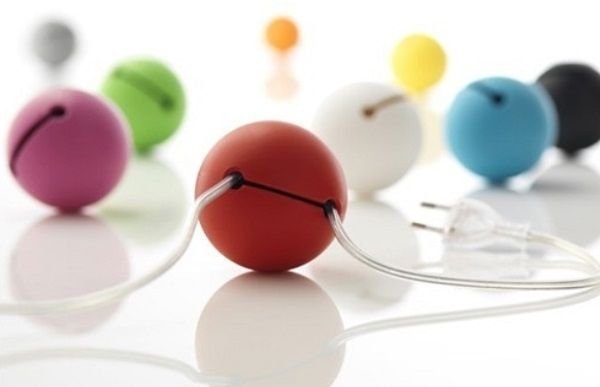 Are you embarrassed of loose and tangled wires, peeping from every corner of your house. Order a bunch of cord balls for yourself today. The excess wire can be stored in it, rather than leaving it sprawled all over the floor. Protect your elderly and kids from tripping and falling. The balls come in all colors and look very jazzy.
8. The jewellery hideout behind your favorite painting
Do you fear losing your mothers and grand-mothers jewelry all the time. Then design a secret jewelry box behind your favorite painting in the living room. Let it be your secret and hide your stash there. Nobody will ever guess that the treasure is above his or her head.
9. Hang the garbage bin behind the door of the cabinet
Do you have a small kitchen and want to make the best of the space you have. Then get the wastebasket that can be hung over the door of the cupboard. The space below the basin will get free and easier to clean. You don't need any tools for it, just hang it with the handles.
10. Utilise the space in the headboard of the bed
Keep your favorite books and magazines inside the storage space created at the headboard. Design them in such a way that they can be opened and closed conveniently. It will keep your bedroom and bedside clutter free.