Coffee tables are a necessity in any home these days. While some homeowners tend to opt for standard designs, others look out for creative, inspirational designs to make the coffee table an integral part of the home décor. If you looking for such a coffee table for your home, here are some great designs to give an artistic look to your living area.
1). Roots Table
As the name suggests, the Roots Table by Ekta Shah draws inspiration from the organized chaos present in every normal form and process in the world. The table features individual plywood pieces bent to form interesting shapes and patterns.
Even though the pieces appear haphazard at the first sight, they connect to each other to provide ample support for the glass top. The overall design of the table is sleek and lends an ultra-modern look to a traditional coffee table with a wooden base.
2). Mesa M3
One look at the Mesa M3 coffee table and it will fascinate you with the intricate design formations and geometries. Designed by Javi Olmeda, the table features natural patterns just like those found in vegetal, animal and mineral realms. The coffee table features nine layers of maple wood, carved out individually and stacked appropriately, to form a sculptural masterpiece.
Drawing inspiration from the design patterns found in many natural elements like the breadfruit's cortex, the mangroves' roots and the skin pattern on a giraffe's skin, etc, the designer has created this striking and elegant pattern for the Mesa M3.
3). Large Low Soglio Coffee Table
Designed by Fioroni, this solid wood coffee table features an egg shaped design that is both casual and elegant. Made out of either walnut or chestnut wood, the coffee table is lightweight and comes with a steel rod lacquered support in blue, grey and white colors. The wafer thin tabletop looks like as if it is levitating, while the gradation of wood is absolutely spectacular.This low-slung design would look awesome with a low raise sofa in the living room for sure.
4). Maple Entry Table
Designed by Chance Coalter, the unique looking Maple Entry Table uses brick layering technique to achieve a single, continuous form. The technique is applied to the table's legs and curved base section, while a large tenon connects the two sections at the top. The result is a visually pleasing and tactile coffee table that expands and contracts as the individual maple pieces breathe.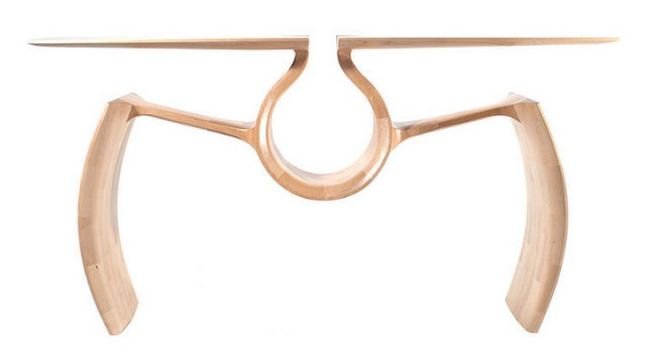 5). Pebble Coffee Table
Designed by Mikhail Belyaev, the Pebble Table features a unique semi oval design with a shiny, white finish. However, what makes this coffee table stand apart is its smart storage option carefully etched into the central design without compromising on quality in any way.
In this case, a glass top quaintly hides the sleek storage solution below. The base of the table features several lateral gaps to store myriad items so that you end up with a coffee table that can double as an efficient work surface as well as a storage space.
6). Human Emotions Coffee Table
Handcrafted from local bamboo, walnut and plexiglass, this one of a kind coffee table owes it design to creators Andrei Hakhovich and Gradient Matter (a design studio). Wood lap joints connect the individual wooden pieces that appear to be manually stretched to reveal cell like patterns on the surface. The accurate plank portions and gradation stripes male the table appear extremely realistic.
The creators of this coffee table revealed that they had intended their design to display every possible human emotion, from attraction and connection to tension and repulsion. If you closely observe the table, you will find all these emotions in its unique and creative design.
7). Fjord Sculptural Coffee Table made using Concrete and Glass
Looking more like a standalone sculpture, the Fjord Sculptural Coffee Table is sure to amplify your home decor. Designed by Ben Young, the coffee table comes with a cast concrete base, a cast white bronze cabin and a laminated float glass that acts as the cherry on the top of the inspirational piece of art.
8). Fabulous Fluid Quark Coffee Table
As part of the creative collection of coffee tables designed by Emmanuel Bablet, the Fabulous Fluid Quark Coffee Table takes the rather interesting shape of an organic or fluid structure. The seamless coffee table is made from several materials, including bronze, quartz, copper, marble, wood, metal and plexiglass.
The designer employed a Computer Numerical Control robot to design and shape the table. The result is a truly mesmerizing coffee table that would look super cool and organic in your home.