With the idea of outdoor roasting/barbecuing being ingrained in many cultures around the world, BBQ grills have come into the focus of attention of many consumers – regarding their capacity, efficiency and even style. But we have decided to come out of this conventional commercial shell, and talk about those seemingly illusive yet incredible BBQ grill specimens that notch it up on the whimsical, grandiose and even outlandish levels.
1) Steampunk Locomotive Engine BBQ Grill –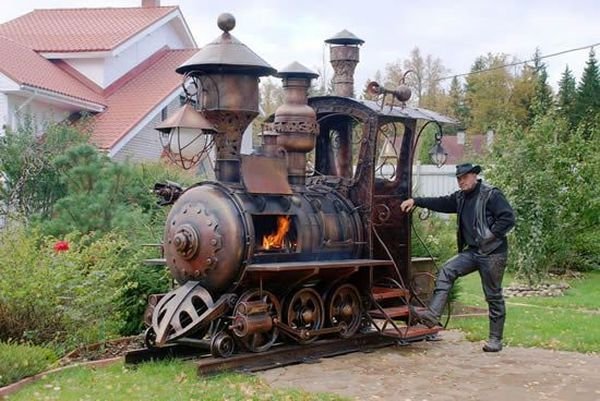 Some resourceful Russian metal workers from the village of Deulina (near Ryazan) have heroically created the Steampunk Locomotive Engine BBQ grill, by painstakingly salvaging the working materials from various sources including cars, motorbikes and even authentic trains. The fascinating end result is an imposing BBQ grill with three separate bays that comprise of two 60 cm long grill pits and a stove fitted with a full fledged rotating spit. The innards of the contrivance are further filled with heat resistant fire-clay bricks and a trio of smokestacks that also work as the train chimneys.
2) Treasure Chest BBQ Grill –
From Steampunk we move on to the realms of pirates with the aptly christened Treasure Chest BBQ grill (by Etsy shop 'firesculptureart'). The fantastical contrivance can be opened with a sword-shaped lever, while the large form-factor also flaunts its hanging pirate-esque grilling utensils that are conspicuously showcased as the 'traditional' crossbones. And, the last time we checked, the entire set came for a whopping sum of $11,500!
3) HEMI Powered Barbeque Grill –
This one-of-a-kind HEMI-powered grill was unveiled by automotive company Chrysler (at an event), and boasts of a real HEMI engine that is mainly found in vehicles like Jeep or Dodge. In fact, the grill takes the advantage of the boisterous 5.7-liter V-8 HEMI engine – which accounts for a whopping 240 hot dogs being cooked in under 3 minutes. This incredible capacity is further bolstered by 330 sq ft of steel, that ultimately endows the bad-ass essence to the robust contraption.
4) Orange County Choppers Mobile Barbecue –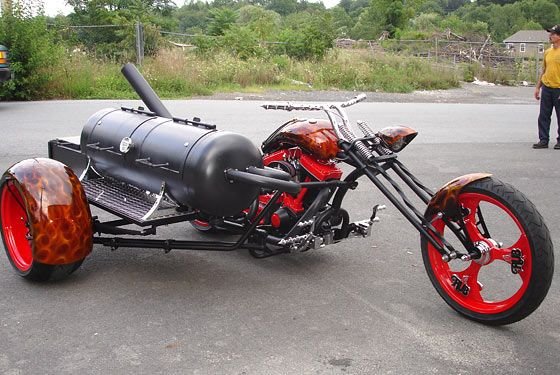 Barbecue-themed New York restaurant RUB collaborated with Orange County Chopper to create the above-pictured monstrous Mobile Barbecue Pit. Touted by RUB's owner as the 'the sickest, baddest thing in the world', the uproarious contrivance is perfect for those protein and grease-heavy concoctions like cooked ribs and brisket. And audaciously, the monstrous wood oven is housed quite close to the giant gas tank – a 'daredevil' arrangement that might not appeal to the faint of hearts among us.
5) R2-D2 BBQ Grill –
There had to be a R2-D2 inspired contraption, given the widespread appeal of the bantam robot from Star Wars in our popular culture. This particular creation was ingeniously designed by one Philip Wise from an old yet durable oil drum. Of course, the deft attention to details is remarkably achieved by some strategic placement of paint and vibrant decals.
6) Holden Monaro GTS Barbecue –
For the uninitiated, the Holden Monaro is a muscle car manufactured by the Australian subsidiary of General Motors. And, as is the typical enterprising attitudes of Aussies, one of the 'mates' (presumably) managed to install a BBQ grill (colloquially known as 'Barbie') under the front hood of a disembodied Holden Monaro. Unfortunately, we do not have much info about the inventor or the cool contrivance he/she has created.
7) Sawed-off Shotgun BBQ Grill –
Both booming and menacing – the $9,550 Sawed-off Shotgun BBQ Grill is yet another robust specimen from Etsy shop firesculptureart. Constructed from powder coated heavy steel, the massive grilling contraption boasts of a 5 gallon capacity fuel tank, imposing sand wheels (for mobility) and those threatening round barrels that belch out real-time smoke when the 'gun' is cooking your meat and veggies.
8) Yoder Smokers' Frontiersman BBQ –
Big and bad, the Yoder Smokers' Frontiersman BBQ is a grilling machine tailored to catering more than a hundred people. Exhibiting its ginormous cooking surface of a whopping 2,080 sq inches, the humongous embodiment aptly rests on four wheels. Furthermore, the $17,600 BBQ grill integrates a heat management system and an insulated firebox – thus giving the pit master flexible control over the scope of mass-scale outdoor food preparation.
9) Jag Grill BBQ Table –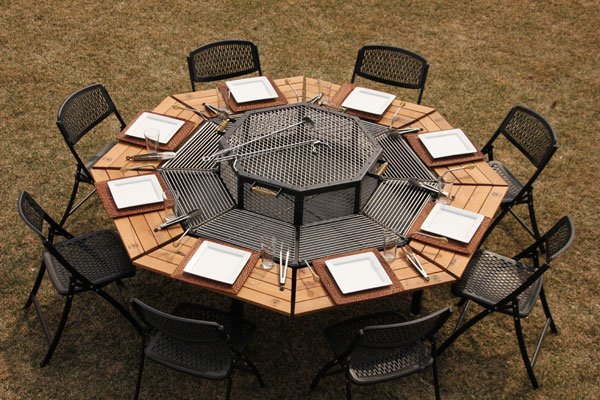 Finally a design that gloriously combines a dining table and a BBQ grill, the Jag vaunts its incorporated fire pit in the center, while also showcasing grilling stations positioned at every seat. This allows you and your guests to actively take part in a true barbecuing tradition by throwing meats into the central section. In other words, it brings back the socializing side of outdoor cooking. Moreover, the Jag table (buy – $2,499) in entirely modular in nature, which allows it to be dissembled once the 'cooking and sharing' extravaganza is over.
10) Wall Mounted BBQ Grill –
Till now, we had been harping about imposing specimens of BBQ; but this time around Focus-Creation has ingeniously conceived a space-saving Wall Mounted BBQ Grill. As can be comprehended from the images, the grill is simply folded up against the wall after you are done with your hot dogs and steak burgers. The setup is also flexible in the sense that the steel fire-bowl can be adjusted for height, which perfectly suits the spatial ergonomics of the installation.