With Christmas around the corner, many of us are well supplied on the holiday spirit steeped with dollops of kindness and morality. However, that doesn't necessarily mean that a few of us can't tickle our funny bones with seemingly harmless decoration tactics. In this regard, some of the decorations we are going to show are oddly clever and some bizarrely funny. But the common theme shared between all of them is that the embellishments have gone against our 'too much cliched' Christmas conventions by sticking to the weird route of humor.
1. Beer Bottle Christmas Tree
Lovers of the bittersweet spirit, gather around for your Utopian version of a Christmas tree. The above pictured decoration has been doing its overtime rounds in the net since at least 2009. The best part is that the bottle green color scheme of the beer containers does play its part well in creating the ambiance of a lush Christmas tree. And, we are also told that Mountain Dew, Sprite and 7 Up bottles can do the trick for teetotalers.
2. Santa's Volkswagen
The German automaker indeed would have been proud to be the manufacturer of Santa's sledge, and that too in the form of their favorite marque Beetle. However, more than just the clever visuals, this decoration would have certainly taken time, money and resourcefulness to be set up. As for its worth, it does proudly make its way time and again into a myriad of weird Christmas decorations list.
3. Family man hanging by the edge
Firstly just to make things clear, we think (and hope) that the above hanging man in actuality is a dummy. That being said, this comical decoration is one of our favorites, especially since it is among the very few embellishments that works its magic in broad daylight. Mimicking the often used gag in pop culture of falling down while setting up lights, this decoration reputedly induced many unsung heroes to try to save the man (or dummy). This certainly proves the wonderful capacity of Christmas spirit!
4. Lazy yet clever decoration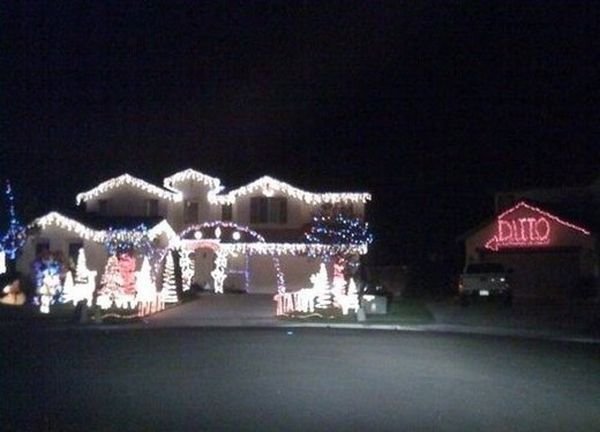 It does happen to the best of us, when our confounded neighbor brings out his big guns during the holiday season. But one small Italian derived word and some witty humor saves us a lot of trouble during such outclassed times. The above pictured decoration is one such example, where 'Ditto' salvages our day from embarrassment, and in some ways actually turn the tables on our snobby neighbors.
5. The Christmas truck
'Twinkle, twinkle little truck'; this simple yet heartwarming conception was concocted by one Kris Marshall. Reportedly the idea struck him when he was transporting a generator and some Christmas light strands on his truck to his local church. In a flash, he decided to use these very same components on the truck itself, thus conceiving the miraculous Christmas truck.
6. Happy Birthday Jesus
Yes, many of us may seem to forget it, but 25th December is supposed to be the birthday of Jesus Christ. Going back to basics with such conscientious decorations, one can certainly put his two cents in about the Hallmark commercial conspiracies and the raucous gift grabbing phenomenon.
7. Santa hit by plane
It does make sense in some ways, as the air traffic during the Christmas Eve might be a tad bit on the congested side. Not to be taken too seriously (especially by children), the decoration provides a twist to the flying expertise of the jolly old man. So the motto is : when commuters are returning by flight to meet their loved ones, do not take your reindeers onto the sky.
8. Peeing Santa
Sometimes our beloved Santa has to take the much needed pee break. Of course, we as accepting patrons do understand the stress of delivering gifts to over a billion children across the world.