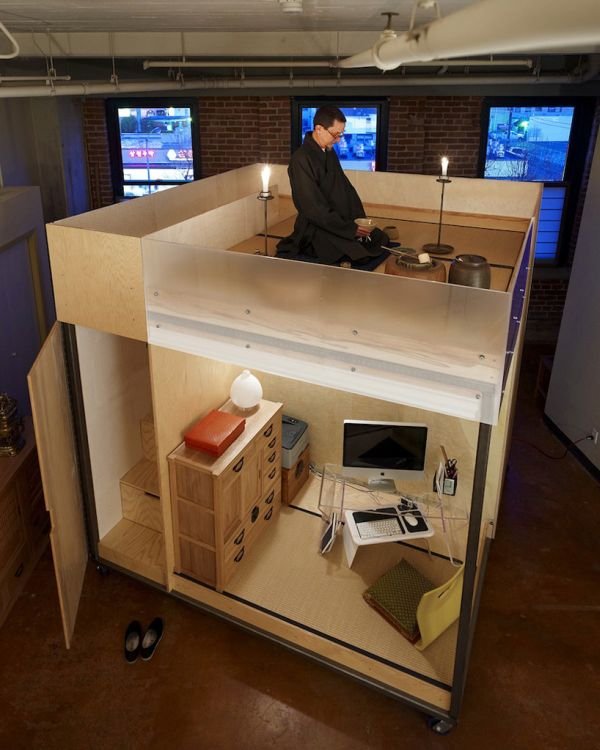 To woo away the vagaries of space management for their client Lui Ming, interior designer and Feng Shui firm Spaceflavor designed the 'Cube'- a compact mobile dwelling that rests inside Ming's 1100 square feet apartment in Oakland.
Lui Ming is a Feng Shui practitioner and needed a solution that allowed him to roll away his personal space while crowds of students bustled around his house throughout the day. The Cube rescued Ming giving him a two storey, eight feet high space, where he could study, rest and meditate, and separate his private living and work. The entire structure axioms around feng shui elements of yin and yan; the ground floor provides for study and sleep area, while up the stairs is the meditation room. It is mounted on wheels and can be rotated to orient in directions lined with the Chinese lunar calendar, marking all auspicious dates for Ming.
A concealed staircase leads to the mediation room and is integrated with a shoe drawer at the bottom to avoid taking muck up the stairs. Translucent roller shades close off the ground floor compartments and a shoji screen and acrylic walls allow light to penetrate during the day. At night, when lit from within, the cube glows like a small room size lantern.
What's most amazing about the Cube is that it was custom designed with a steel frame and plywood components that can easily fit through a 3 feet wide door and takes about 48 hours for complete reassemble. So even if Ming plans to move out to another place, he will not have to worry about preserving his privacy and losing his multi functional space ever.
Via: Designboom