It is not often that we come across architectural pieces inspired by organic forms. However, in this case, the designers at Zebra3/Buy-Sellf have crossed the threshold of conventionality and created the uniquely shaped cabin (pictured above). The building is actually located in an open site close to the Rives Arcins in Bordeaux, France; while its 'organic' form remarkably replicates the night owls of the land.
In structural terms, the whole conception has been constructed from timber components, which results in an array of geometric angular facades in the interiors of the Owl Cabin. However, the linearity of the inside is matched by the deftly crafted bulbous cylindrical shape of the exterior form. This rotund facade is perforated by two round 'porthole' windows at the top level that mimic the big eyes of an average owl. All of these is topped up by an interesting looking roof finish that imitates the feathery texture of the nocturnal predator's unnaturally large forehead.
And finally, as expected, the decor of the Owl Cabin's interior is kept minimal with simple furnishings. The habitable scope is further improved by a round-shaped bed that complements the circular windows along with the overall roundish bearing of the owl-esque structure.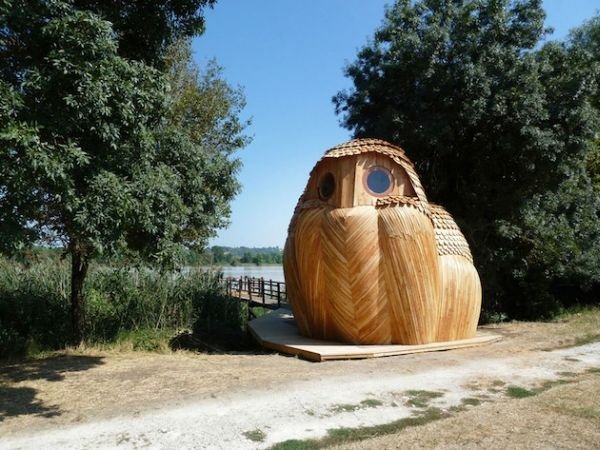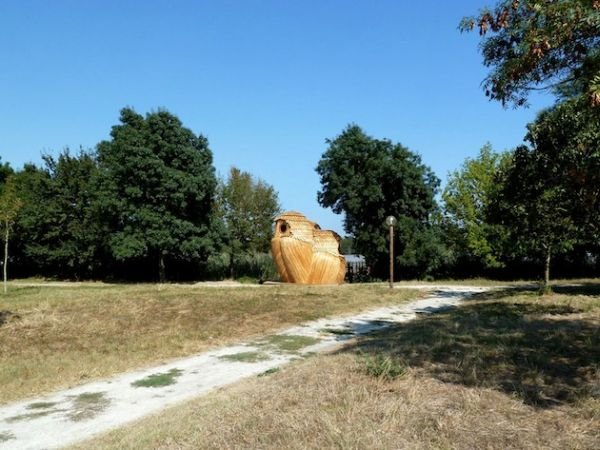 Via: Inthralld