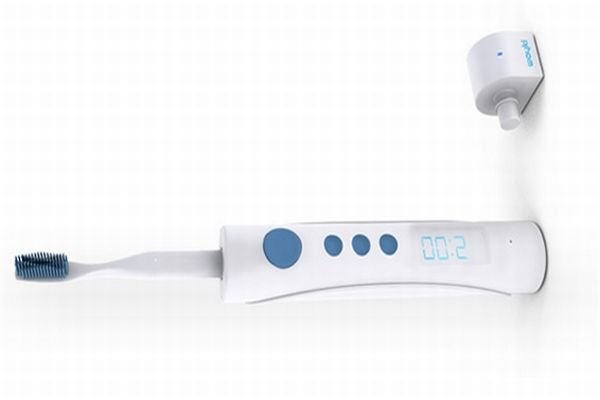 After a tiring day one loves to go to bed and enjoy his/her sleep. But in morning it becomes tough to wake up and even more tougher to leave your bed. Now here Wayki comes into act; created by David Hawkins; Wayki is a combination of both alarm clock and toothbrush.
This unique device not only pushes you to wake up in morning but also makes you leave your bed and go to bathroom to brush your teeth. Wayki has a cylindrical alarm clock, and a toothbrush with a handle that slides into this clock. Before you go to sleep this alarm clock is placed on your bedside table where as brush remains in bathroom. Now in morning when this alarm clock buzz you need to get up and rush to your bathroom to stop it by plugging in brush. As this is the only way you can stop this alarm clock. There is no snooze button nothing as alternate to give you any relaxation. When you plug-in tooth brush to the alarm clock two minutes countdown will begun on its display. This function is intended to give you two minutes time for brushing your teeth. Before going to bed simply retrieve alarm clock from brush and "re-arm" the clock, to wake up and leave your bed in similar way.
You can get this Alarm clock for just £49 if you contribute to the project funding at present. As David is raising money for the production of Wayki Alarm Clock Toothbrush; later it will be available at the price of £99 on retail.