Eons ago, we harped about the hi-tech tools of kitchen that could aid your grand Thanksgiving dinner. Since then the world has endured the false alarm of an armageddon, the resignation of a Pope and Detroit's bankruptcy. Suffice it to say, things have changed. And, now we are back once again with a brand new list for delightful kitchen gadgets.
So while you are at it, do give a gander at 10 cool kitchen gadgets that might just take your art of cooking to the next level.
1) iSi Basics Flex-it Measuring Cup –
Simple, safe and heat resistant – this in a nutshell describes the Flex-it, a set of 3 measuring cups for precision cooking. Durable for both microwave ovens and dishwashers, the cups can remarkably resist heat up to 490 degree F. The designs are also ergonomic in nature with a gripping external surface that complements the smoothness of the inside.
Buy – $20.5
2) Professional Multi-Chopper –
Those who are not too keen on slicing, dicing and coring their vegetables with a paraphernalia of different knives, should try out the Professional Multi-Chopper. The contraption comes with its integrated stainless steel blades (interchangeable) that cuts through entire fruits and veggies by just a push of the top spring-loaded lid. What's more, the gadget also comes with its measurement marks for improved take of ingredients.
Buy – $39.95
3) Yonanas 902 Frozen Treat Maker –
If fruit treats are your forte, do consider the above pictured Frozen Treat Maker. Having the capacity to instantly turn frozen fruit into a soft serve ice cream-like delicacy, it should be the go-to gadget for sweet toothed health aficionados. And, even daily practicality is taken into account with the device's easy-to-clean features.
Buy – $48.28
4) Cake Batter Dispenser –
The picture says it all – the Cake Batter Dispenser with its measuring label is perfect for depositing precise quantities of batter on the oven tray. That makes it a handy accompaniment when baking cup cakes or even cooking pancakes. Furthermore, the body of the dispenser is made from plastic, thus upholding its lightweight credentials.
Buy – $14.98
5) Joseph Joseph Spaghetti Measure –
If you are all up for a swanky piece of kitchen equipment, the above pictured Spaghetti Measure from Joseph Joseph is surely the way to go. Almost looking like a camera shutter mechanism, the compact contrivance (available in variant colors) is designed for one to four servings. Its working scope expects you to slide the lever along the disc's edge, which in turn controls the opening and closing of the central aperture.
Buy – $12.46
6) Kuhn Rikon Corn Zipper –
As it turns out, using knives to remove corn cobs and kernels is not only unsafe but also cumbersome. The Kuhn Rikon Corn Zipper is designed for such inconvenient occasions. Its high-quality stainless steel 'teeth' effortlessly cuts between kernels and cobs, while the cob-textured plastic handle gives you sufficient grip. Additionally, the zipper comes with a protective case for housing the steel cutter when not in use.
Buy – $13.50
7) Cuisipro Apple Corer –
A fusion of practical design and classy bearing, the Cuisipro Apple Corer is contrived to cleanly push through the apple. In fact, its sharp serrated teeth (at the bottom section) is constructed to specially tackle rough and hard apple specimens. The functional factor is equally bolstered by the ergonomic considerations of the handle. And lastly, the contrivance can also be detached into two smaller parts with just a push of the lever.
Buy – $9.99
8) Marinade Infusing Meat Tenderizer –
Bringing forth science into the cooking side of affairs, the Marinade Infusing Meat Tenderizer boasts of three needle-like applicators (connected to the plunger) that injects the marinade into the meat. This is complemented by a whopping 27 stainless steel blades that can gleefully cut through tough connective tissue layers. Moreover, these blades have dual depth modes that allows you to optimally penetrate and tenderize various kinds of steaks and roasts. Finally, all these precision components can be disassembled to make its cleaning process much simpler.
Buy – $49.95
9) Indoor Flameless Marshmallow Roaster –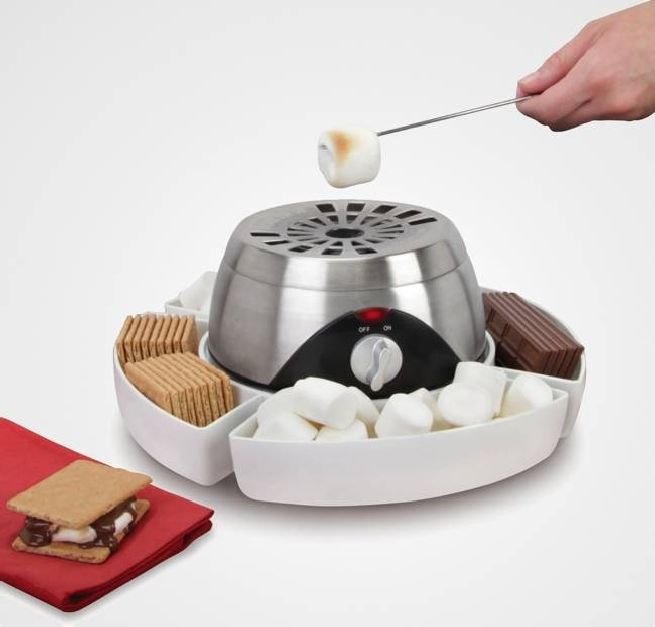 Making toasted marshmallows are all well and good except for the potentially dangerous open flame. Well, the Indoor Flameless Marshmallow Roaster traverses this predicament with its integrated stainless steel electric heater. Additionally, the roaster features divided compartments for keeping other assorted stuff like crackers and chocolate. In other words, it equates to s'mores and other marshmallow delicacies all year around; of course bundled with the safety factor.
Buy – $69.95
10) FridgePad for iPad –
For our last entry, we have decided to take the collective electronic route rather than a specific kitchen accessory. The FridgePad is simple clipping mechanism that allows you to keep your iPad fixed to your refrigerator door. This means you can remain connected to realm of online recipes, cooking tips and other crucial gourmet info, while bustling your way through the kitchen. The back side magnet also makes it easy to re-position the iPad, in case your child has taken a liking to your tablet.
Buy – $49 / €36.10