Cooking turkey in a conventional oven can be a bit tricky. Being low in fat it tends to get dry fairly quickly. Dry-heat methods like roasting don't do much to save the intrinsic moisture of the turkey, especially when cooked for longer times. That's where the new and impressive Wolfgang Puck Rapid Pressure Cooker Oven comes in handy. Combining the functions of a counter-top oven with the moisture-retaining quality of a pressure cooker, this oven delivers sinfully juicy meat every time.
The oven uses a low-pressure, sealed chamber with even heat distribution to ensure faster cooking and enhanced flavor. While a 14-pound turkey takes around four hours in a normal oven, this advanced oven by Wolfgang Puck claims to do the job in one hour. Poultry takes about a third of the usual cooking time, while steaks and ribs are done in just 60% of the original time.
With brushed stainless steel exterior and easy-to-use controls for setting time (120 timer), temperature and cooking method, the Wolfgang Puck Pressure Cooker Oven looks very much like the typical electric oven. It can be used to bake, roast, broil, defrost, toast and also to keep warm. A built-in rotisserie rack can be obtained for another $50 on the original price of $249.95.
Apart from the usual functions, the oven provides two different cooking modes- standard and pressure cooker. Preheating is required for both the modes. For the pressure cooker mode however, you will need to seal the inside of the cooking chamber by turning the vent release valve to 'seal'. Pulling the lever in the front to 'seal' position will prevent the steam from escaping. It is necessary to turn the gasket to 'vent' at the end of the cooking time so that the heat and steam is released.
The pressure cooker feature of this Wolfgang Puck Pressure Oven is in fact a massive time-saver. The hot steam trapped inside the oven keeps the food incredibly moist and delectably tender. It allows even uninterrupted cooking, with no need to turn the food halfway through the cooking process. Glass and metal cookware are can be used in this oven.
The oven comes with dishwasher-safe accessories: one baking/broil rack, a drip/baking pan, one roasting pan, a crumb tray, rotisserie rod, 2 rotisserie screws and tines, rack and rotisserie removal tool. A manual and a cookbook, containing recipes for both standard and pressure cooker modes of cooking, are also provided.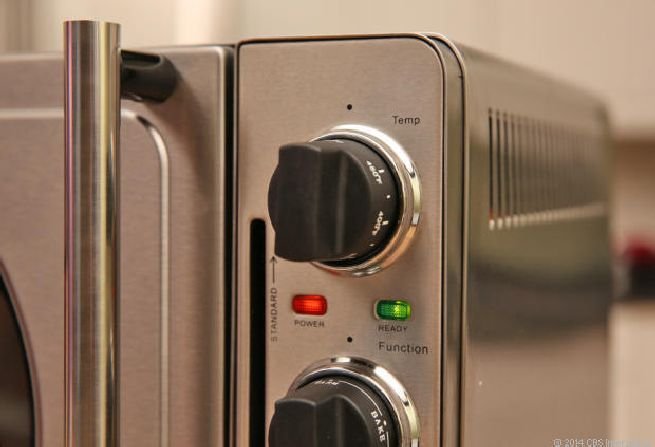 Price – $249.95. For ordering online, please refer to the home site.
Via: CNET