Storage space in the kitchen is never enough. Ask any homemaker and she will always crib about lack of space.  In a house full of kids storage solutions are always welcome. Look around and you will see furniture items with lots of hidden space. The space inside, below and above them can be used to store so much stuff.
We today bring to you, 5 amazing kitchen storage solutions, which are sure to be appreciated by all of you. Some of them are simple DIY projects, others will require a little professional help.
1. Storage Under The Shelves
If you wish you had another shelf and just don't have the space for it. Then make use of the space below the shelves. Mount your jars from below and utilize the space effectively. Just screw the lids to the bottom of the shelves already installed. Try and pick jars of similar sizes in order to a make it look organised.
2. Under Cabinet Spice Rack
We all have a long list of spices that are looking for a space on the kitchen shelf. You wish that they were at an arms length when you needed them the most. Remove the stress from your lives and build an organized under cabinet spice rack for yourself. We think that a skilled carpenter can build something that resembles our picture. Have a look.
3. The classy under counter Refrigerator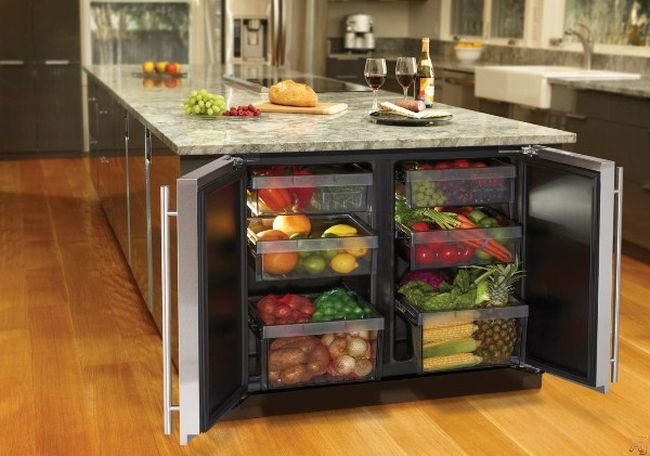 Check out these beauties from U-Line, they will bewilder you with their top quality, innovative designs and value for money. These under counter beauties come with inbuilt ice making, place for preservation of wines and powerful refrigeration. It is extremely functional and a must have as it can fit right under your worktop. It can be easily called practical, classy and chic. The display with LED's in the interior, ensure that items are easily visible. The master design of sliding bins make storage and cleaning very simple.
4.The vegetable sacks from Orka
If you would really like to store your potatoes, garlic, ginger and shallots tidily, we have just the product for you. It is the most economical way to store root veggies within reach. These sacks keep the light out and control the spoiling and sprouting process. The shelf life is definitely increased. And they are not just not any ordinary veggies bags, they have drawstrings at the top and at the bottom, giving you access on the basis of their freshness. Just hang them on the wall and get some counters free for other stuff. You can buy this product from Amazon.
5. Pull-Out Pantry Cabinet
Do have a small space along the refrigerator or between two cupboards that is going a waste. Use it now by designing a pull out pantry in between. The unused or less frequently items can go in it. And since it is on casters pulling out and pushing in will not be a mammoth task. Get a solid one in laminated stain resistant wood made. Every kitchen needs a pantry take our word for it.