Before delving into our tips for modern bedroom, it is necessary to actually know what exactly a 'modern' bedroom entails. Bedroom being a sub-set of interior designing (which itself is a part of architecture) responds to the architectural styles developed over the years.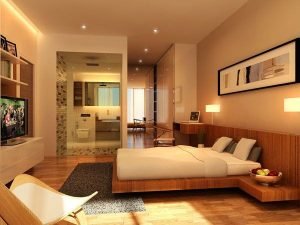 In this regard, Modernism and Modern Architecture both allude to the simplification of form and shapes along with eschewing of applied decoration. In simple terms, a modern bedroom doesn't equate to those floral, conspicuous Victorian or Art Deco style embellishments; rather it alludes to a simple design with minimal decorations. Now, as can be comprehended from the definition, a modern bedroom decor is not that difficult to achieve. So, without further ado, let us check out some easy tips for our modern bedroom designs.
1. Simple color composition complemented by simpler artworks –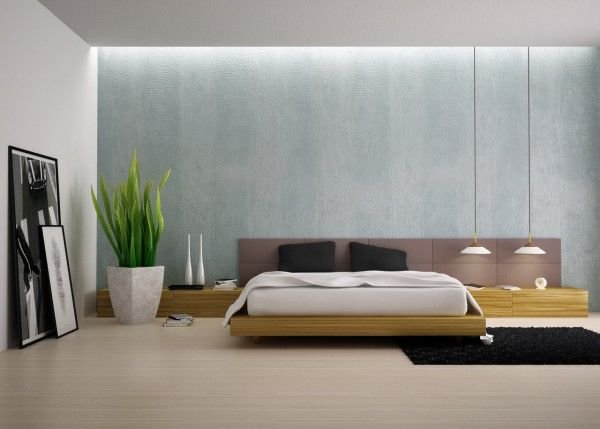 The very first thing a person notices (sub-consciously or consciously) is the color composition of your bedroom. So, as a prerequisite for the simplistic nature of your bedrooms, one should opt for lighter color schemes that maintain the comfortable ambiance of the interior space. Light and bright colored paints also create a sense of space and volume 'expansion' (as opposed to dark colors) – a handy tip for people who live in smaller apartments. Coming to the artworks, they are only welcome if they are simple enough to go with the flow of the room decor. In other words, complex art objects can snatch away the attention of the users and the guests from the overall essence of the bedroom.
2. Smooth lines and clean shapes –
Related to our first tip, the form of the bedroom along with its architectural elements should comply with unobtrusive lines. For example, the modern bedroom should have an easily accessible shape (conventionally a rectangle or square) which integrates objects like beds, desks and shelves defined by clear, 'modernist' shapes. This arrangement sticks with the fundamental dictum of Modern Architecture – 'form follows function'.
3. Functional elements can be used as decorative elements –
There is a new (and righteous) trend among contemporary home-oriented conceptions, where the designs fuse both aesthetics and functionality. In this regard, there are a number of functional elements like shelves and lamps that can also pose as decorative items for your bedrooms. The clear advantage of such scenarios is that you don't have invest extra money for purely decorative items that do not serve any practical purpose other than fulfilling their visual quotient.
4. Apt lighting to go with the 'modern' flavor –
Simple bedroom designs should allow a substantial quantity and distribution of natural lighting. However, it isn't always day; and this is when the true innovation comes into the decor. Night lighting is a tricky affair, if you opt for flourishing lamp designs with advanced yet electricity consuming systems. But lighting can also be achieved through more simpler mechanisms like vernacular lamps, minimalist lighting fixtures and even recessed lighting (as pictured above). The lighting effects and their play of 'light and shadow' can also be used for accentuating parts of your bedroom that are spatially enticing.
5. Other spatial and finishing improvements –
Finally, we come to the collective scope where the ultimate arrangement (of furniture, color and light) completes the decor of your modern bedroom. In this regard, there some improvements one could make in the closing stages of his design. One apt example would the incorporation of clear glass facades as windows, skylights or even as access points like doors within the rooms. Glass enhances the distribution of light, while also endowing your room with a clean, transparent volume factor.
And, as for wall finishes, your modern bedroom's wall facades can also be treated with materials that make their aesthetic mark beyond just bright colors. Wooden panels are known to for their subduing effect, while colored tiles notch up your room's vibrancy quotient. But, as always, the choice is yours to make.