The living room is where life happens and is arguably the most important room of a home. This is the first room any guests will see so you will want it to reflect your personal style and taste. It is common that personal budgets do not match personal tastes. This is even truer for people who like the idea of a luxurious lifestyle but don't have the money for it. The good news is you don't have to pay a fortune to make your living room look like it cost a fortune. Here are 5 tricks to make your living room look more expensive without breaking your bank.
1. Invest in Textiles
If you want a glamorous living room without spending a fortune, invest in textiles. Certain textiles have a more luxurious look than others. Faux fur always makes a huge impact on a room's appearance whether it is used as a decorative pillow or a throw. Always go with thicker fabrics when decorating for an expensive appearance. Thicker fabrics have a more upscale appearance. Vintage and antique textiles are another popular option.
2. Invest in Large-Scale Art
An oversized piece of art hanging on your living room wall can give it the "wow" factor it desperately needs. Art is not restricted to wall decor. You can find cheap pieces of artwork at thrift shops and flea markets. If you can't find anything that catches your eye, consider making your own piece to hang from your wall. Consider purchasing furniture crafted by artists or artistic looking coffee tables to make your living room look more luxurious.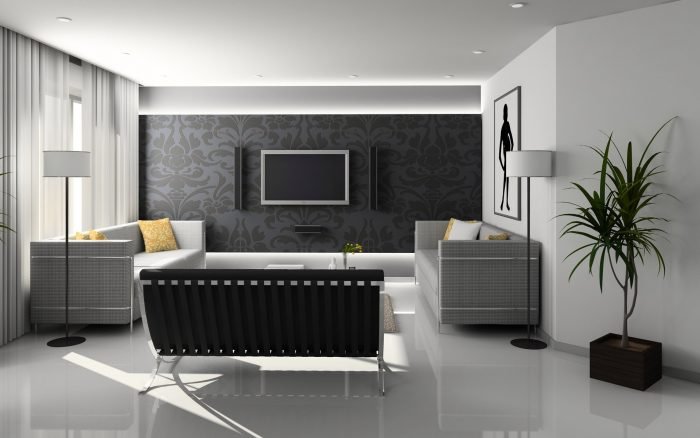 3. Incorporate Texture
You've met with financial advisers, got a mortgage with the help of a site that presented you with the best mortgage rates available and you have purchased your home. You may not have very much money left in your budget to make your beautiful home look as luxurious as you feel. Your living room is where most of the magic will happen so it may be the one you want to make the boldest statement. It is where you will spend your time chatting with company or relaxing after a long day of work. If that is the case, incorporating texture into your living rooms interior design could help. Consistent use of one or two textures makes a room appear dull and boring. Instead, mix a variety of textures for a more dynamic look. Different textures in upholstery, decorative pillows, carpet, throws, and drapery can make will make your living room look more expensive.
4. Roll Out a Large Rug
Stylish rugs don't have to be expensive. It is best to use larger, less expensive, rugs over small expensive rugs. Large rugs make a room appear larger and more breathable which make a room feel more expensive. Small rugs make a room look drab and empty. Arrange our furniture around the rug instead of covering the rug so that it can't be seen. Rugs are often the centerpiece that pulls the entire living room together so shop carefully.
5. Paint Walls And Trim the Same Color
Paint has a drastic impact on any room. A simple and cheap way to bring up the appearance in your living room is to paint the walls and trim the same color. This allows the focus of your living room to be on your decorations and accents. It is also easier on the eyes and simplifies the room's design.