Most of us live in small apartments with limited spaces. The options to make the household more efficient and comfortable are limited. You don't necessarily have to undergo extensive renovations or invest a hefty amount to give it a makeover. Just follow these simple seven steps and witness your home become more organized.
1) Assemble a library for your neighbors.
There is nothing like sharing books with your family and friends. In these times where gadgets seem to rule our world, let's make an effort to revive the old days. Where reading a favorite book, with a cup of hot chocolate, besides the fire place, was the most satisfying thing in the world. Install this small and compact library in your back yard and encourage sharing and reading of books.
2) Spruce up your bathroom with heat sensitive tiles in the shower
Do you live with family and kids or share a room with flat mates? Then we bet that the shower is the only place in the house where you get some time to yourself in peace. Most people take the most difficult decisions while in the shower.  So why not add some mystery and fun to the cubicle by adding heat sensitive tiles to the wall. The changing colors of the tiles are sure to make bathing an exciting affair. And we bet all your special lady friends will be equally mystified by them.
3) A shelf along the hallway will for extra storage space.
This is a wonderful idea to give your house some added storage space and look chic at the same time. Just add a shelf along the hall way, in wood if possible. Keep the width limited but the length can go as long as the hallway itself. You can drop your keys, loose change ad so many other knick knacks on it. It can also be decorated by a long line of framed family photographs.
4) Dutch doors to watch over your kids and pets
If you think baby gates are a heavy investment, which goes waste once the baby grows up. Then install Dutch doors in your house. You will be able to keep a watch on the babies and pets, from the comfort of your bed. They work best for the nursery, kitchen and all spaces often visited by the little humans.
5) Install slide-out drawers in the kitchen for spices that are often used
Install a slide-out drawer for spices you often use in the pantry. It will save you the time of opening the cupboard or pull out drawer every time you need something. Install it at eye level so that everything is visible right in front. Your kitchen will become clutter free and you will feel much more in control.
6) Install classy Murphy beds for your kids, increase their playing space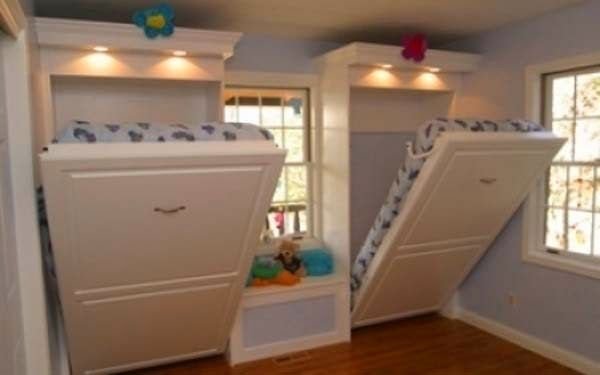 Bunk beds have become boring. And the children soon outgrow them and then you keep wondering what to do with them. Instead, install Murphy beds in the kid's room. Every morning just fold them into the wall. Voila! Your children get a whole room to themselves to play and have fun.
7) Add a simple window seat to the landing of your staircase.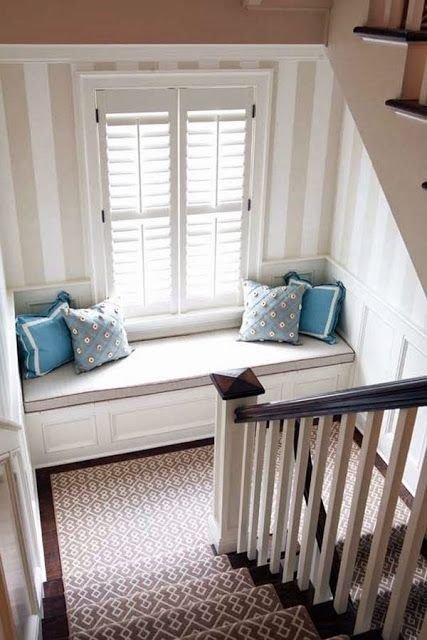 If you like fresh air, sunlight and if you like to sit at the window. Read on. Do not let go of any opportunity to design a neat corner for yourself, next to the landing of your staircase. Install a window seat, some bright cushions and some net curtains. Make yourself a cup of jasmine tea and watch the world go by from your vantage point. Sometimes it is the simplest of things that give us immense pleasure.