Thanksgiving can be that time of the year when you let your creative juices flow and you strive to make it a memorable one. Besides cooking gastronomical delights in the kitchen, you can also try your hand at decorating with stuff lying at home. Make your home look as warm and as creative as possible.
We have today collected for you seven such decoration ideas that take very little effort, do not cost the world and promise to give a spectacular final effect. And once you are done with Thanksgiving do not be in a hurry to remove them, as they offer a great relaxing theme for the entire Autumn.
1. Take out your collection of throws
Decorating your table top with throws, or draping them around a chair or sofa is a wonderful idea. It warms up the place and makes it look so much more relaxed and inviting. Just control yourself from going overboard.
2. Pick up plenty of candles
Candles never go out of fashion. Grab a handful and place them strategically all over the place. You can also collect some nice autumn leaves and place them over it. A centerpiece arrangement of candles of all sizes is sure to be a hit. You can choose between perfumed and non perfumed candles and even light a few tea lights to add to the central theme.
3. Use your Halloween pumpkins
If you have some uncut pumpkins left over from Halloween put them to good use now. Place them in groups of three or more and let them add some color to the festivities. You can place them up one top of each other, to get a pumpkin topiary of your own.
4. Make your own candle holders
If you have kids at home, give them the project to make their very own candle holders. Get a hold of some apples and small pumpkins. Now core out their centers and your candle holders are ready to use. You can place long candles inside them or even fix small tea lights. And if you are really worried about toppling them, then   place each fruit candle inside a broad high ball glass. Or else place each fruit inside a pie tin and cover the sides with berries or nuts.
5. Collect some bare wood to make an arrangement
Grab a few bare branches from the back yard and place them in the corner of your dining table or right in the center in a pot. For a really dramatic effect you can also place a small light inside the pot and then place the branches around it. The light and shadow will create a dramatic effect on a warm, Thanksgiving evening. You can also make an arrangement of logs, pine cones and twigs in large urn or basket and place it by the fireplace. They are great for stoking the fire and also manage to bring nature right inside your living room. If you want to add to the drama just drop a few drops of vanilla or cinnamon oil on the twigs.
6. Add your neutral touch
If you have a small space, and are worried about going overboard with the colors. Then just fill a few tall vases with your favorite nuts and place them strategically. The neutral autumn touch is sure to make a classy statement of its own. You can fill them up with pecans, acrons, pine nuts and all. Remember to keep them at eye level for best results.
7.  Get The Kids Involved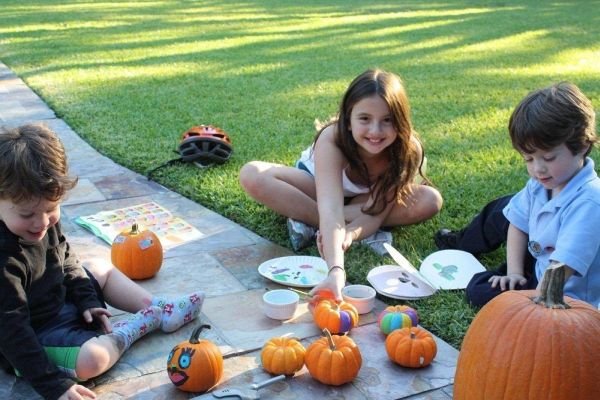 Get the whole family involved for these home decorating ideas. Get the older children to collect freshly fallen leaves with a rake. Get the younger ones to collect pine cones and twigs. Let the children design their own centerpieces and give them a free hand in choosing their own mini pumpkins, gourds and nuts. Identify a corner where you place a large pillar candles and the let the children place their pieces around it.
8. Get your fireplace going
Nothing can beat the warmth that spreads from a slow burning fire in a fireplace. The soothing glow can make you forget all your worries for some time. Organize a sitting arrangement, which can also be on the floor, around the hearth. Stack up some cushions and organize cider and snacks at a table nearby. And, in case you are conflicted about using your wood fireplace, do take a gander at one of our previous tips post that discusses the advantages of an electric fireplace.