It is almost that time of the year when many people gather and various dishes flow, all inside the cramped space of your living room. But what if we could replicate our culinary skills and cravings through inanimate accessories? Well, it is entirely possible with some smart food-inspired designs. So, without further ado, let us check out the eight such accessories and furniture items that delectably mimic the ever-familiar pizza; and would probably give a gourmand/spatial boost to your Thanksgiving party.
1) Pizza Junior inflatable chair –
Nothing beats a slice of pizza (or a piece of turkey for that matter) being eaten while sitting on a larger pizza. Well, Wow! Works LLC fulfills this fantastical food wish with their Pizza inflatable chairs tailored to the tiny tots. The 'topping and cheese' finishing is achieved with the use of digitally printed fabric made of soft polyester. And, the best part is – the designers have also created other food-inspired stuff, including inflatable chairs replicating cupcakes and hamburgers that would go well with Thanksgiving decor.
Buy – $37.
2) Pizza Sleeping Bag –
Extra guests, and no extra beds? Worry not – the Pizza Sleeping Bag solves your spatial woes with its snug and warm flannel-lined credentials. And, as with original pizzas, the topping of sauce and cheese is 'handmade', with specific use of special dyes. Moreover, there is a conscientious side to the whole affair, since the quilts for stuffing are actually recycled. You can also choose from a wide range of complementary pillows, which include finishing of broccoli, olive, pepperoni, mushroom, and onion.
Buy – $200.
3) Pizza Pillow –
Since we brought up pillows in the previous entry, why not opt for a wholesome pizza cushion in itself? The above pictured design from DCI fulfills this quotient with mouthwatering intensity. The graphical layout is breathtaking to say the least, with the crisp colors showing the vibrancy of the onions, olives and cheese. And, in case the item is out-of-stock (which is unfortunately often the case), you can also check out other DCI-crafted items, including a Fresh Popcorn pillow and a Gumball Machine cushion.
Buy – $30.
4) Pizza Bed –
From pillows we move on to the collective scope of a bed with its appropriate sheet. The delectable brainchild of artist/designer Claire Manganiello, the Pizza Bed set comprises of 'crusted' pillow cases, bed-sheet covered in tantalizingly oozing tomato sauce, and a comforter with the lip-smacking duo of cheese and pepperoni. In other words, just make sure not to fall asleep on this bed when you are hungry. To that end, the craving pizza aficionados might not have to worry too much – as the Pizza bed has still not made its retail debut. But we surely are keeping our fingers crossed (and our mouth shut) for that commercial opening.
Buy – NA
5) My Wooden Pizza –
Kids and pizzas seem to connect well on the gourmet level. So, why not extend that 'bond' over a pizza puzzle with its very own cutter? Hamleys My Wooden Pizza accounts for such a contraption with its wooden pieces that perfectly fit to make for a sizzling, round-shaped dish with its toppings of pepperoni, corn and broccoli.
Buy – £20 (around $32).
6) Plastic Canvas Coaster Set Pizza –
A pizza with no calories and fat is the type of pizza we would like on our table. The above pictured 5 piece coaster set (from HometownUSA) fulfills this criterion with a rather practical function. These 'calorie-free' designs protect our precious table-tops from actual pizza stains with the aid of their 4 ply yarn stitches and tightly-glued felt backings that snugly cover the lower surfaces. And, in case you are still confused – no, they are not edible.
Buy – $25.
7) Pizza String Lights –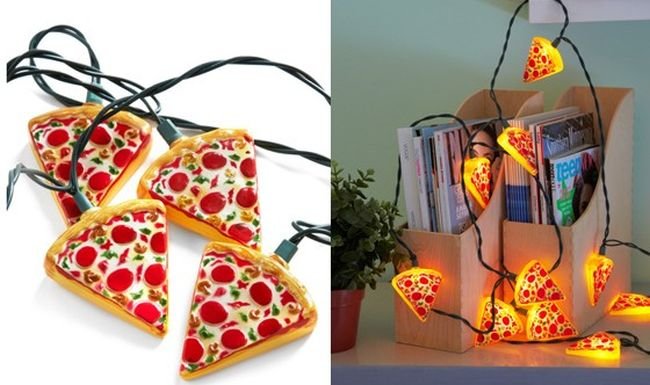 The picture says it all – a set of small lighting components to bring out the food-inspired festive decor inside your living room. We do like how the pieces individually account for a sumptuous slice of pizza, while also showcasing their dedicated outlets that eschew the confusion of tangled wires and their related paraphernalia.
Buy – $30.
8) Pizza Dog Pillow –
Why should one leave their ever-trusty pet dog out of the mirthful mix? Well, the Pizza Dog Pillow (by Dogzzzz) follows the conscientious path of including your furry friend into the celebratory scope – with its ecofriendly high-quality materials and machine-washable advantages. Furthermore, the pet pillow can also be used in the outdoors for those backyard sun-bathing sessions, by virtue of the accessory's Denier fabric.
Buy – $65.