The chirping of the birds in the neighborhood and the woods, is one of those little joys, that makes living worthwhile. Birdhouses and the activity of the birds is so interesting, that one can spend hours looking at them.
We today present to you a wonderful organic idea to make designer birdhouses for your flying buddies. These Eco-friendly architectural dwellings are sure to impress the birds and your neighbors and friends.These birdhouses are designed by putting into good use the fallen tree stumps that lay around neglected. These architectural dwellings for your feathered friends blend right into the surroundings. The architects at Moger Mehrhof Architects, conceived the idea of these classy and retro birdhouses. The sawing of the logs was done by Brandywine Woodworks, the steel was procured from John Madarasz.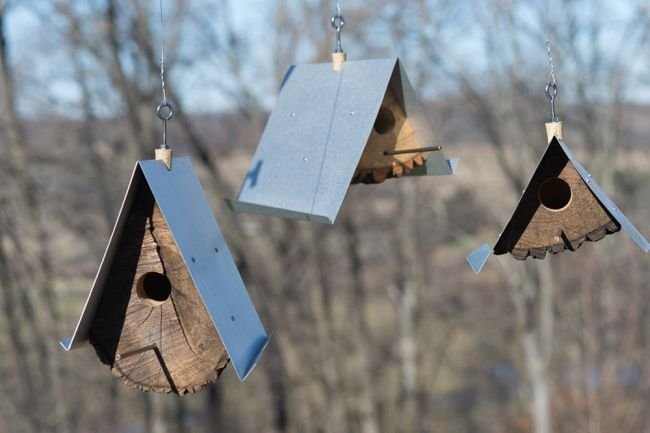 This simple but effective design is sure to impress many to try a DIY birdhouse for themselves. You just need to cut logs into triangular shapes that resemble pie wedges. Now remove the central portion and leave the two sides intact. Drill a hole on one side to enable the bird to come inside. Drill a long nail or a long dowel for the bird to sit outside and cover the home with a inverted V shaped piece of a steel sheet.
You can now pin it to a wall or hang it with a hook from the tree in the backyard. Building of a birdhouse cannot be simpler than this. The effort is minimal and the outcome is awesome.
The sloping roof will ensure that the cabin remains warm in winter and cool in summer. In our modern age where the sparrows and eagles are vanishing and the earthworms are a rare sight, log cabins for birds, are the perfect way to show you care.
Via: Weburbanist