Cthulhu has been one of endearingly malevolent fictional entities concocted by the one and only H.P. Lovecraft. A wondrously weird cross between an octopus and a dragon, the behemoth has made its way into numerous pop cultural references, including that of South Park. And now the gargantuan monster is available in its full 'visage' glory as a wall lamp, courtesy of Canadian artist Karl Dupere-Richer.
On an interesting note, it is not the creation of Cthulhu wall lamp that tickles our geeky fancy. Rather it is the resourceful way by which Dupere-Richer achieved the heroic task that has really caught our attention. In that regard, the entire contrivance has been made from an assortment of stuff that the artist managed to salvage from various avenues. The odd list includes – watering hose sections, PVC pipes, tires from bicycles and even flower pots.
The strikingly sinister end result doesn't in any way reveal the mundane quality of these everyday items. But creativity does have its price, and in this case the price is being priceless. Dupere-Richer has decided not to commercially part with his brilliantly conceived wall lamp, and that does make us "R'lyeh R'lyeh" angry! Of course, we will be on a lookout for any change of heart in the future.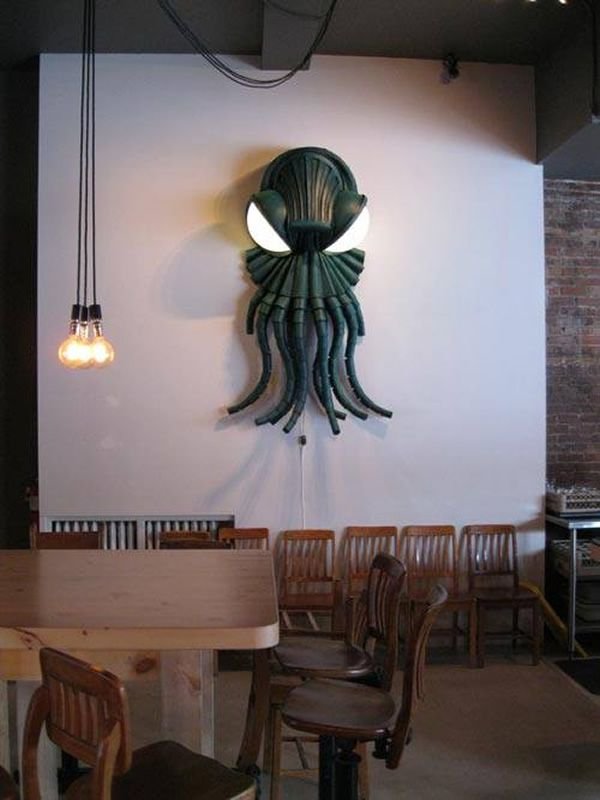 Via: Neatorama