We have harped about cat beds, but this contrivance takes things to the nigh 'purrfect' level of ingeniousness (ok, pardon the badly constructed pun!). The resourceful duo at the Atomic Attic (Etsy Shop) – Miles and Aimee Harrison have finally made some feline-friendly use of those colorful and 'ancient, yet not so ancient' iMac computer shells.
Their inventiveness has resulted in the upcycling of the venerable devices into comfortable beds with vibrantly hued plastic covers that notch it up on the chic factor.
Christened aptly as the TV Pet Beds, the designs are not only about the kaleidoscopic visuals. The fully furnished product comes with a machine washable slipcover (which is also removable), a snug base cushion and rear-support components (braces) that are actually modified from the original speakers of the computer system.
Users shouldn't also worry about the 'recycled conditions' of the TV Pet Beds, since each specimen is touted to pass through rigorous processes of quality control that entail cleaning, polishing and even heat-treating. And, the best part for decor enthusiasts is – you can personally choose the color/style of the cushion fabric you prefer – from a host of samples that are depicted in a pictorial manner (the designers can send you the catalog via email).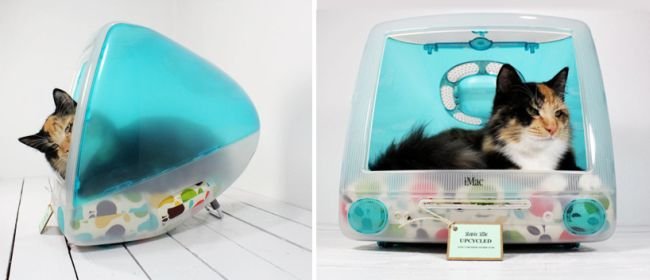 As for buying, please refer to this link: price (from Etsy) – $109.
Via: ViralForest