MIT's CityHome conceptual design proved that an entire apartment can be infused inside an automated box. And now, Betta Living has continued with this 'smart' tradition with their advanced 'Bedroom of the Future'. Primarily conceptualized in favor of evolved user experience, the futuristic setup is envisioned as the home-based scope that fuses both comfort and technology in optimized levels.
To that end, each usable furniture inside the bedroom will come with its own set of specific advantages. For example, hi-tech virtual mirrors will allow the user to browse through the contents of the wardrobe without needing to physical open the storage space. The fascinating ambit will continue with a micro-tagging system on each clothing item – which would allow you to virtually try them on via gesture control.
All of these features also take a personalized turn, with the storage compartment's ability to guide you on your dressing code (which will depend on the weather and the outfit worn on the previous day), and automatically hand out the chosen attire.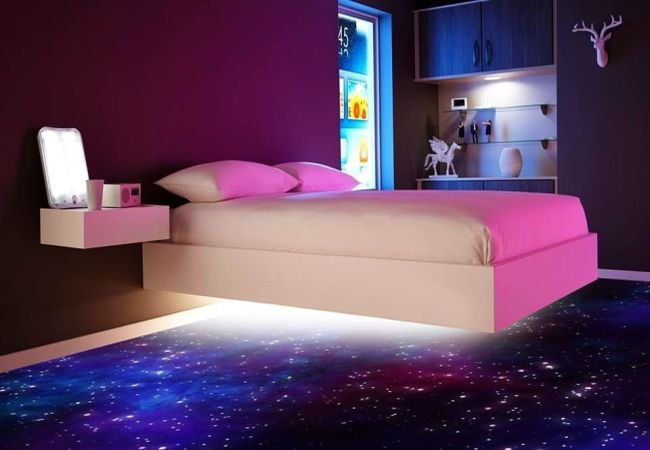 As for the sleeping arrangement, the bed can be elevated up to the ceiling level to make space of a customized gym space. It will also come with a smart duvet that is integrated with a monitoring system and smart pillows with lighting fixtures. In essence, the quilt can adopt its temperature in sync with your body's heat, while the pillows can command lamps to activate once you are awake.
And since we brought up lighting, the bedroom will additionally boast of smart windows that induct natural light depending on the season and outdoor climate. The windows will also have the option of blacking out or displaying artificial scenery as per the discretion of the occupant.
The final 'piece de resistance' of the Bedroom of the Future will pertain to progressive interactive technology. In that regard, Oculus Rift virtual reality head-mounted display will take the place of conventional books and ebooks – thus alluding to a more collective experience (that also extends to gaming and television). Furthermore, the flooring of the interior space will flaunt its interchangeable surface tiles that can mimic various scenarios ranging from callow lawns to sandy beaches.
So, at the end of the day, like CityHome, the Bedroom of the Future also hints at spatial efficiency. And it does so by infusing a multifarious scope of diverse user experiences and attributes inside the privacy of a single apartment bedroom.
Via: ITProPortal