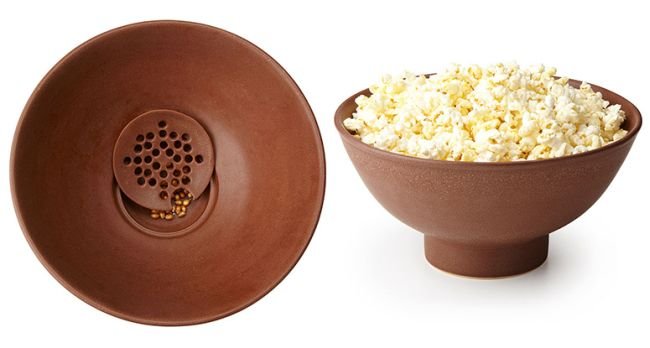 The popcorn is the ultimate fuel that drives you even during a boring movie session. And on top of that – it is healthy too (sans the butter or the 'butter alternative' used in theaters)! But every movie enthusiast would know that well made popcorn amounts to crunchiness. And, this sacred institution of crunchiness is sometimes violated by those dastardly (and potentially painful) un-popped kernels.
Fortunately, there are some guardian angels designers looking down upon us with a smile on their faces – and one among them must be ceramicist Catherine Smith, who hails from Portland, Oregon. She has ingeniously devised the aptly named Kernel Filtering Popcorn Bowl that keeps out those unsavory kernels with a relatively simple design component.
To that end, the bowl features a small compartment at the bottom separated by a perforated lid. These small holes allow the kernels to pass through into the compartment, thus keeping the rest of the popcorn safe and tasty for consumption. In other words, no more worrying when viewing flicks in a darkened room.
Price – $26.95 For buying, please refer to the eBay link.
Via: TheGreenHead