When it comes to unconventional getaways, we have talked about cottages that can be rented in the wilderness of Swedish forests. But what if you could notch it up on the eccentricity, and spend your weekend in a B&B that comprises of a fully furnished fire truck?! Well, the above pictured Beermoth fulfills this whimsical quotient, and that too with its unique Victorian essence.
Originally envisioned as an accommodation solution for 'The Insider' musical festival held at the Inshriach Estate (located in the Cairngorms National Park, UK), the Beermoth has maintained its habitable credentials for the curious vacationers of the Scottish countryside.
However, the scope is not only about a bed and breakfast; rather it is about accommodation in a classical style with authentic historical furnishings decorating the inside of the truck. The vehicle itself is a 1956 model Commer Q4, and was 'liberated' from the Manston Fire Museum in Kent. Similarly, the raised oak parquet floor was found from a Tudor-era mansion, and supports an imposing Victorian double bed.
Interestingly, there is also an upcycled side to the whole affair, with a snooker table slate being used for the interior hearth and a rescued fire-escape being utilized for the main staircase. The tryst with recycled items continue with two accessing doors salvaged from a cottage and a dog house respectively.
So, if you are interested in spending your weekend in an yesteryear fire truck with antediluvian decor and breakfast served on time, the Beermoth might just be your best bet. And also, one shouldn't forget the Inshriach Estate setting, which further boasts of an Edwardian country house and verdantly rustic Scottish landscape.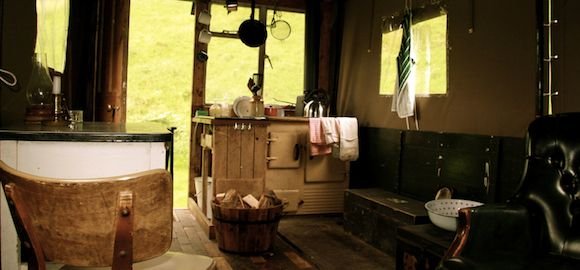 Rate – £60 (around $100) per night for 2 people.
Via: CanopyandStars