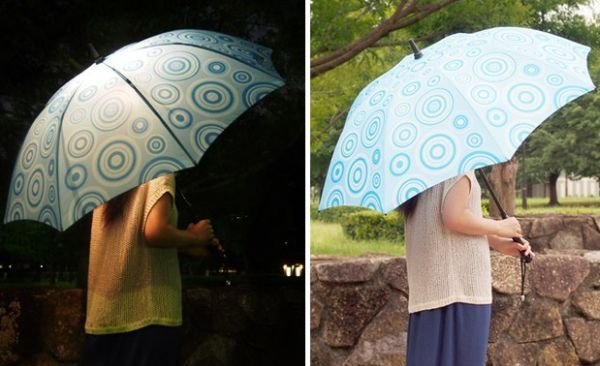 Umbrellas by virtue of their conventionality shields us from rain. But the Japanese have once again come forth to turn something mundane into something utterly innovative. In this regard, we have come across the Bright Night, a range of umbrellas that also act as lighting mechanisms!
Touted to help you during those descend down the stairs, opening your car door scenarios and even while you are taking a lonely walk in the dark night, the umbrella can illuminate your way by the help of a bulb (integrated along the canopy support structure).
According to the designers, the Bright Night umbrellas are crafted from rust proof and lightweight polycarbonate. This material also endows them with greater strength, which allows them to withstand winds of up to 25 miles per hour.
The over-sized canopy on the other hand is made from water-resistant nylon. The inner surface of this canopy is lined with silver that pertains to higher reflection of the light, thus improving upon the illumination quality.
Finally, coming to the commercial side of affairs, the Bright Night umbrellas are available in six types of canopy covers, all with variant colors and compositions. As for pricing, each umbrella will set you back by 3,980 yen (around $41).
Via: Sirobako