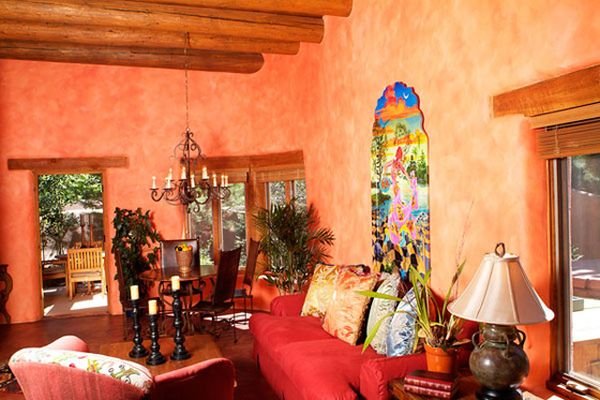 Mexican art and architecture has seen inspiration from a wide spectrum of cultures and civilizations including the Mayans, Aztecs and the Spanish. In fact, Mexico already boasted of great cities from pre-Columbian times that might have resulted in the planning of monumental spaces with flair. Afterwards, the Spanish brought with them the styles of Mozarabic, Baroque and Neoclassicism.
And now, in our contemporary times, we are witness to the juxtaposition of such European styles (with Arabic-Moorish effects) with the Native American influence prevalent throughout the past millennium. The end result is the application of 'vibrancy' in modern Mexican style house interiors, which is further accentuated by a certain degree of rustic essence.
1. Color
Mexican style interiors typically sport warm colors that allude to very scope of vivacity and glow. In this regard, you should opt for paints ranging from earthy shades to the colorful, sultry ones. Some hues that exude an essence of 'heat' include color compositions like orange, red, coral, tangerine and vermilion. The paint job can be further complemented by various artwork, furnishings and accessories that accentuates upon the Mexican flavor (we will discuss about some of these items in the next entries).
2. Wall Decorations
The vibrancy level can also be notched up on the walls with variant patterns, artworks and color palettes. Some users go for the the weather-stained walls that are highly reminiscent of Mexican haciendas (or self sufficient estates). Simple geometric patterns and art-pieces are also favorable, given their allusion to a more welcoming ambiance. However, one must take care not to overcompensate with some of these decorations, as too much color and intricacy might result in a loud and garish interior.
3. Floors
When we are dealing with Mexican style architecture, we are surely dabbling with the ambit of centuries old 'traditional' styles. A part of this decor direction involves the use of rustic flooring elements like ceramic tiles, stone and wood. Of course, the floors can be further decorated with traditional furnishings like colorful carpets and rugs that bring about the aspects of fervency and richness. A good example would be usage of Navajo carpets that are sewn and woven by hands. These carpets also tend to display 'primeval' nature inspired motifs like animals and plants that hint at the overall rustic decor.
4. Furniture
Typically made from old timber varieties like pine wood, Mexican furniture show a clear influence of Spanish and Mayan styles. One can opt for Colonial era influence furniture items that insinuate elegance of form with sturdy structural credentials. The items like chairs and tables can be further embellished with elaborate ornamentation, colorful cushions and fabrics, lustrous patinas and even special hand-rubbed antique finish. Other wood varieties can also be used, like – cherry and nut wood.
5. Accessories
Mexican themed accessories cover a wide range of designs, including – hand sewn rugs, pottery, ironware, candlesticks and ceramic items. Their assortment can be used in various decor spaces, like along walls, tables, shelves and also as freestanding objects. A well rounded arrangement of such accessories would finally endow an atmosphere of warmness and friendliness – the core characteristics of a Mexican style interior.