Now, J.K. Rowling's tree houses may have cost a whopping $330,000 to construct. But we bet they don't quite have the mind-numbing level of ingeniousness associated with them, as is the case with the above pictured conception. What may look like a cool stunt, is actually a bike powered tree house elevator created by Sandpoint, Idaho resident Ethan Schlussler. Yes, you read that right – it is a DIY bike powered elevator for climbing a tree house!
According to our young designer, he got tired of the steep climb offered by the original tree house steps, especially since he likes to make frequent journeys to the top. So as an innovative solution, he crafted his very own personal elevator.
But as they say – Rome wasn't built in a day. Schlussler did have to make a few modifications to the bike mechanism, like slowing down the speed offered by the first gear for a jolt free ascent. For this he gloriously cut off the large sprocket from the front section of the bike and wielded it to the rear part for a lower velocity gear. He also tinkered with other stuff like totally removing the de-railers and creating a brand new chain tension component.
While this unconventional DIY elevator does tickle our geek fueled fancy, the classy looking tree house itself didn't escape our attention. Exhibiting a uniquely hexagonal shape and a solid bearing, the structure is not even complete. But then given his notions of ingenuity, it comes as no surprise that Schlussler wants actual walls and effective insulation to bedeck his preciously perched castle.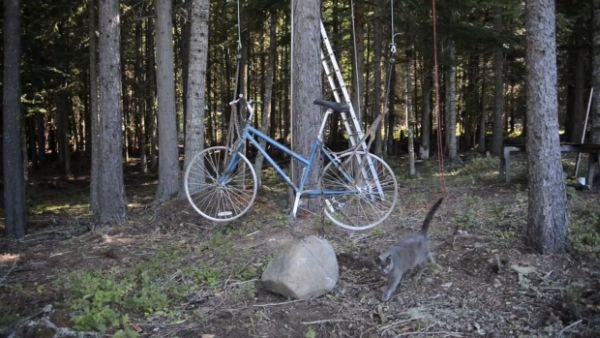 Via: Makezine