Modern Technology has turned out to be a kind of all-round celebration of smartphones. We have previously covered smartphone-controlled washing machine, refrigerator, slow cooker and even toilet. Then why not a liquor cabinet that can be remotely accessed via your mobile? With the impressive web-connected Project Gutenberg, French liquor giant Pernod Ricard has forayed into the highly profitable world of mobile apps, smartphones, tablets and the internet.
On their second Innovation Day, the producers of the famous Absolut Vodka, Jameson Irish Whiskey and Beefeater Gin, unveiled a smart cocktail maker run by means of apps. The original Project Gutenberg, which focuses on digitizing books, serves as the backbone for this "liquor library" concept.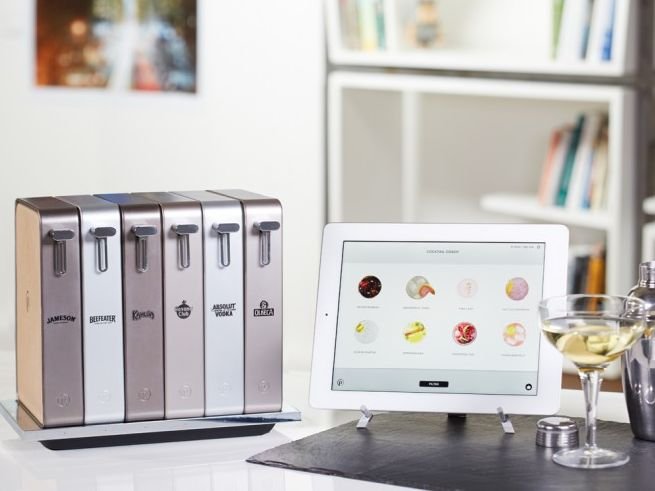 Project Gutenberg contains six metallic "container books" put side by side into a compact, yet elegant design. Each of these containers are filled with Pernod Ricard's alcoholic beverages. A small pump fitted inside each of these segments propels a precise amount of the liquid out to make a cocktail.
The cocktail dispenser is entirely operated by an app that lets you choose and order your drink with the swipe of a finger. If the reserve of any of the containers is running low, you will be instantly notified by an email alert.
The recyclable containers actually look like Mac Minis. Each of the containers is anodized a slightly different color. The two standout features of Project Gutenberg are in fact its suave and polished design and the intelligent app-control feature.
Although still at the prototype stage, if materialized, this "liquor library" concept will indeed prove to be indispensable for bar, pub owners and of course the legions of booze (and tech) aficionados.
Via Wired