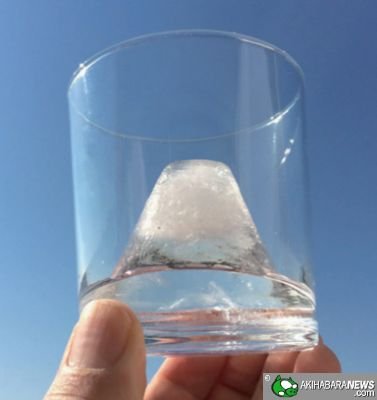 Mount Fuji is the highest mountain in all of Japan, and an active strato-volcano. And, in spite of its potent geographical attributes, the paradisiacal mountain is seen as a part of Japanese cultural heritage with frequent depictions in art and photographs. However, this time around the poetic representation has reached a new level of classiness/eccentricity, with the cultural landmark making its debut inside a glass!
Aptly christened as the 'Fuji On The Rock' (or Fujisan de Kanpai in Japanese), the contrivance comprises of a glass with a Mount Fuji-like projection inside it. This ethereal structure has been created in such a way so as to mimic the gorgeous aura of the real mountain when its crown is laden with fine snow.
For this wondrous effect to take place, one needs to pour some water in the glass, and keep it in fridge for around 8 hours. And, after taking it out, you can clearly make out the two different layers of ice draping the cone. The upper part with its whitish hue replicates the effect of fine snow, while the bottom part showcases a cover of translucency that signifies the lower half of the peak.
We would presume the effect will be accentuated in a subtle way when you pour your favorite liquor in the 'Fuji On The Rock' glass. In any case, it certainly alludes to a rare occasion when you can enjoy your drink while appreciating the fascinating 'view' of Mount Fuji.
Buy – Price on request.
Via: AkihabaraNews