Public toilets – the very term alludes to unhygienic, cramped quarters with cheap tiles and antediluvian Lysol-sprayed water closets. Fortunately, Daigo Ishii + Future-scape Architects believe a public toilet should account for something more novel, which rather accentuates its status as a 'public place'. And, they have put forth their ideals to design the fascinating 'House of Toilet' in the island of Ibuki-shima, Japan.
Nominally replicating the simple pitched roof style of houses on the island, the 'piece de resistance' of the toilet actually lies in its arrangement of six voids. These voids have different directions with symbolic significance; each one of them points to a major city in six inhabited continents of our planet. This provides the metaphorical connection of the island with the outside world.
The symbolism however is not just limited to earth, but also takes the astronomical route in a figurative way. Reminiscent of the precise orientation of Egyptian pyramids, these ceiling voids are arranged in such a way so as to synchronize with the sun's definitive angle at 9 am on three ceremonial days and on two astronomically significant days (summer and winter solstice).
This immaculate scope is envisioned to induct optimized levels of natural light inside the toilet area. Moreover, there is also an additional circular shaped void that helps in collection of precious rainwater.
And, since we have brought up the area of House of Toilet, the spatial distribution of the structure is incredibly related to the aforementioned voids. The ceiling recesses divide up the toilet into compartments, with each individual space pertaining to a private room. These segregated zones are clad with mirror-like polycarbonate sheets that reflect the surrounding landscape of the island.
Lastly, it is not only the natural impact of the island that is echoed by the House of Toilet. The internal decor comprising of dark burnt cedar board, also emulate the local dwellings of the area. This in turns alludes to the vernacular identity of Ibuki-shima, while at the same time espousing Japan's advantageous relation with the global realm (via the directional voids).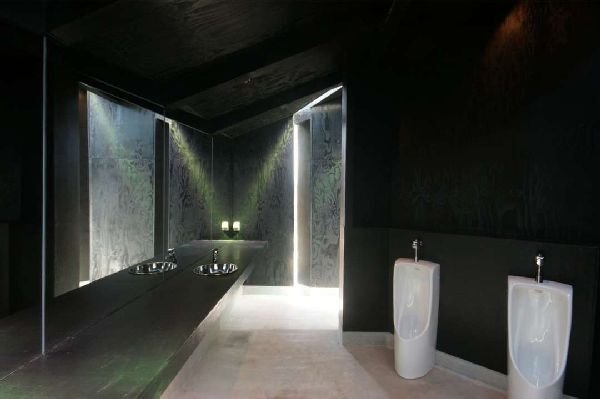 Via: Architizer