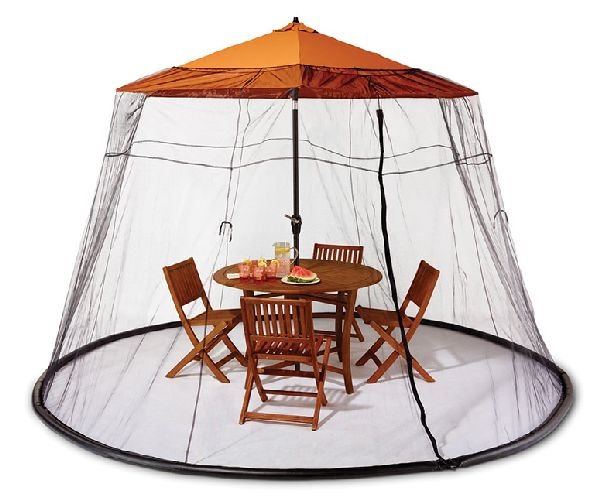 Outdoor dinners are all romantic and fun, until you are attacked by an army of bugs, mosquitoes and other revolting tiny organisms. But as it turns out – the solution to such predicaments doesn't need to involve those potentially toxic chemical bug sprays or awful smelling repellent candles. One can tread an easier path and opt for a simple fly-proof cover! And, this is exactly what the above pictured Patio Table Canopy brings to the table (sorry, brings above the table) with its expansive coverage credential.
Shaped somewhat like a kingly tent, the transparent netting (made from 68-denier polyester) accounts for a substantial diameter of 9 ft and extensive length of 8 ft. This volumetric frame is further strengthened by a circular PVC ring base, which can be filled with water to offer ground-based weight to the outdoor setup. This ingenious arrangement keeps the installation flush so that it doesn't get blown away by those heavy winds and gales.
Finally, the accessibility is also improved with a zippered entry flap that extends from top to bottom. So, you can just slid in inside the Patio Table Canopy with your usual guile, and give a glorious slip to those pesky pests from the annoying realm.
Weight – 3.5 lbs
Buy – $60
Via: TheGreenHead