Automobile enthusiasts can bring their passion for cars to their households, by designing furniture with car parts. Try these creative ideas and get inspired.
If you have been an ardent fan of Top Gear then the first thing that you will notice in the new season, will be their interesting choice of furniture. The sofa, the chair, the table must have got you pretty interested by now.
Next time you want to revamp your furniture get inspired by these ideas. All you need to do is take a closer look at the articles in your garage and pick up items that can be recycled.
1. If you have the space and the guts, get a complete car fitted on the wall of your living room. You will be able to lift shelving to a whole new level. Just use your imagination.
2. Design this coffee table for your home and, we bet it will become the center of attention in your living room. All you need is a car roof, a roof rack and a good quality clear safety glass for it.
3. Put your old Chevy to good use, and design a comfy sofa out of it. This super cool sofa is sure to become a conversation starter at all parties you throw.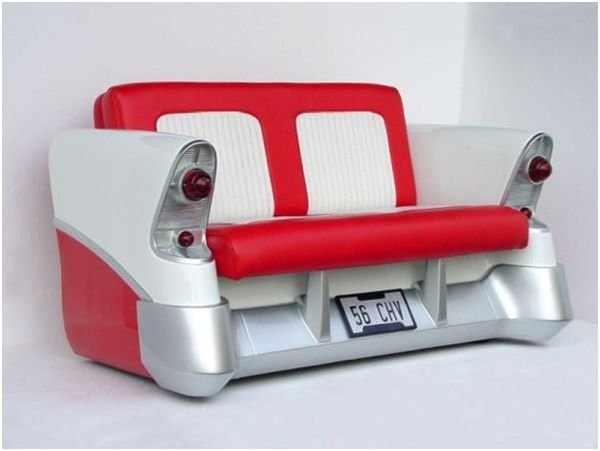 4. If you claim to be a automobile enthusiast then you have to have this chandelier in your home. Get a tyre and add your creative touch to it. You will admire your creation over many lazy drinks.
5. This table with the mechanical parts of a car, will become a legacy that you will want to pass on to your next generation. The design and the level of creativity will leave many speechless.
6. Who said that a car cannot fit into your kitchen? Get inspired by this design to convert your washing sink in to a Volvo. Washing dirty dishes will definitely become more interesting.
7. This cool wine rack is a delight to have in your home.
8. Car parts amazingly assembled to make a washroom basin.