Does airplane parts furniture intrigue you? Many companies like MotoArt have come forward to recycle and reuse old airplane parts in home décor. While one may question how an airplane could find its way into a home, these companies have literally pushed the boundaries to prove the point. If you still doubt us, here are some incredibly creative home décor items made out of repurposed airplane items.
Airplane Parts Furniture Examples
1). Coffee Table made from Pegasus LP2 Fan Blade:
Ever thought how the blade from an airplane engine could turn into a coffee table, look at this inspirational design created out of the giant fan of the Rolls Royce Pegasus Sea Harrier F2 Jump Jet Aircraft by Intrepid Design.
The table features a polished harrier hub that contains titanium blades that have been polished to create a stunning look. A clear glass tabletop completes the design, creating a magnificent visual impact. And this is just the first example of airplane parts furniture.
2). Original Coffee Table from Boeing 777 Wheel:
Who said only the fans of an aircraft can be transformed into a coffee table? One look at the original coffee table created out of a Boeing 777 wheel, and you would know what we mean.
The single version of the table features a hand polished wheel from the Boeing 777 aircraft sitting underneath a clear glass tabletop that offers stunning views of the design below. Would you believe if we say that it took over 150 hours to build this table?
3). Aileron Coffee Table from Aircraft Wing Ailerons:
Designed by MotoArt, the Aileron Coffee Table features a base made of an aircraft's wing ailerons resourced from several aircrafts like B-25's, C-119's, Douglas and Albatross to name a few.
The ailerons are encased within two powder coated structural frames. A clear glass tabletop made of two layers of tempered glass allows one to have a beautiful view of the intricate base below.
4). Cylinder Radial Engine Table from Boeing Stearman PT-13 Engine:
Here is another rather unusual table crafted out of the engine of a US Army Boeing Stearman PT 13. The aircraft was acquired by the designers from the Canadian Museum of Flight in British Colombia with the purpose of creating astonishing and unique airplane parts furniture.
Dating back to the 1930s, the table features a clear glass tabletop that offers a great view of the intricate workings of the engine present below it.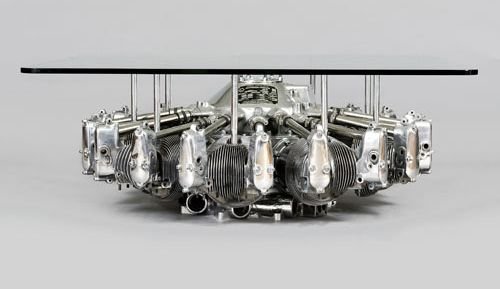 5). Marc Venot Furniture from Reclaimed Aircraft Parts:
Marc Venot is a well-known label that uses old, salvaged aircraft materials to create stunning airplane parts furniture pieces for homes. The company in fact, makes use of the cabin interiors found inside airplanes and transforms them into a myriad of attractive seating options ranging from chairs and sofas to luxurious loungers.
Marc Venot arranges the individual aircraft parts in a repetitive manner, creating a sequence that more or less resembles the feel of sitting in an actual aircraft.
6). Red Chair from Jet Cowling Fan:
How about having your own custom designed chair made out of the fan of a Jet Cowling aircraft? Featured in this design is a finely crafted, contemporary chair design that can seat up to two individuals at a time.
Created by Intrepid Design, countless hours of polishing and carpentry have gone into creating this one of a kind chair that also features a premium leather red seat and upholstery for a luxurious look.
7). Drinks Cabinet from RAF Aircraft Bomb:
Who said you could not use aircraft accessories in your furniture as well? Consider the rather striking drinks cabinet made from an old RAF cluster bomb salvaged from an aircraft.
The 1970s' bomb weighs over 600lbs and was discovered by brothers Harry and Ben Tucker who decided to transform it into something more useful. The result is a simply stunning drinks cabinet that opens to reveal three individual revolving shelves attached to a golden spindle.
8). Bed from 747 Jet Liner:
This truly remarkable design features a circular bed crafted from a 747 Jet Liner, and uses the airplane's nacelle as its headboard. The round mattress measures 84 inches in diameter.
A plexiglass covering on the bed would allow you to view the intricate workings of the engine while the ultra-comfortable mattress ensures that you enjoy a good night's sleep.
9). Partition Screens from 737 Fuselage:
What an incredibly creative way to add some privacy to your room or workspace! These partition screens are made out of a Boeing 737 aircraft's fuselage panels. The low profile casters are available in several variants to add the much need oomph to your home décor.
10). C-124 Cargo Bed:
Ever wondered how it would be to enter the cargo hold of an aircraft? Well, here is your chance to actually sleep in one. The C-124 Cargo Bed features a luxurious bed made from two cargo floors which have been custom cut to fit the bed's size.
The extremely innovative design also features authentic tie-down rings that are used to strap down military cargo in an aircraft's cargo hold. A leather padded footboard and extra hooks complete the bed's raw finish. The chains, straps and handcuffs are optional in case you opt for a softer look.