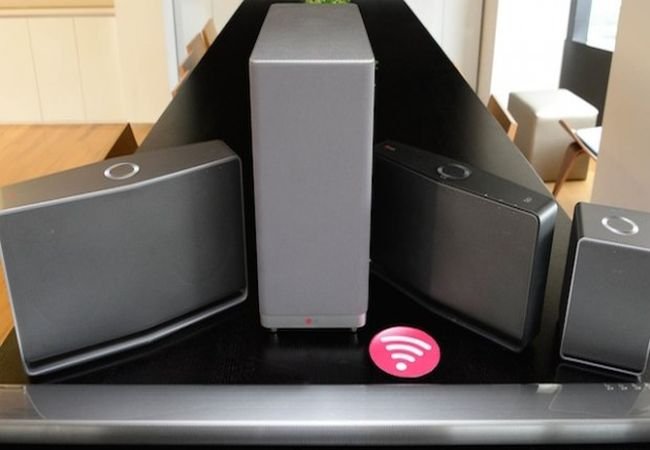 A collective music eco-system – this in a nutshell defines the LG Music Flow set with its flourishing components of speakers, a sound-bar and a unique network bridge. The audio-based system can be regulated via a dedicated app that allows users to manage and access their media library even if these files are stored across multiple devices and platforms.
In addition to that the software also comes in handy for recommending you music (based on your listening history) and acting as a remote music player for your smartphone when you are outdoors.
The first step to all the user-level accessing comes from the ambit of easy interaction with the machine. To that end, the LG Music Flow utilizes the familiar messaging app Line to directly communicate with the owner. Furthermore, the music system will also take advantage of the touch-based NFC technology that will allow users to control the audio output by just a single tap on the device.
Now, as we mentioned before – the LG Music Flow set bring forth the scope of accessing your digital audio files from across a variety of platforms. The connection to different devices is made through a home-based WiFi network, while you can play the files through the UI of the Music Flow app.
The collective device also facilitates other internet-based features like access to online streaming and radio applications with services like Napster, Spotify and TuneIn.
But the aspect that really entices us is the music system's ability to function as a remotely controlled music player for our mobile devices. This is done through an app called Auto Music Play, which can actually be downloaded from Google Play or Apple App Store. And what's more – you can even communicate with the Music Flow on your way back home (via HomeChat) and 'ask' the machine to play your preferred tunes during later guest dinner or parties.
As for the audio quality of the music eco-system, the Korean giant touts its state-of-the-art Automatic Loudness Compensation Algorithm that is envisaged for maintaining audio clarity as well as intensity in any given frequency. The software is aptly complemented by the hardware, with each speaker boasting of an advanced nano-fiber pulp and special foam paper diaphragm – both tailored to better sound quality.
Finally, coming to the commercial scheme of things, the LG Music Flow is expected to make its retailing debut in Europe by early September. A global unveiling will follow shortly after that; and until then you can take a gander at the video below.
Source: LGNewsRoom