Modular kitchens are all the rage these days, thanks to many households that are opting for space saving alternatives to make their homes look stylish and less cluttered. A modular kitchen would be the best option for anyone who wants to combine functionality and style in the best possible manner. If you are on the lookout for such a modular kitchen design for your home, take a cue from the ideas mentioned below.
1. 'Barely There' Kitchen Design by i29 Interiors:
This modular kitchen design features a system that doubles as furniture to fit in the available space. The highlight of the kitchen is the 'barely there' look which has been achieved by integrating all the cooking, electrical and water connections cleverly with the surface. The kitchen features a minimalistic look that hides all these elements within the thin surface. An elegantly designed casework in the background complete with sliding doors reveals space for appliances, and the storage complements the freestanding kitchen design beautifully.
2. Mono Office Kitchen Concept:
If someone were to tell you that the 'Mono Office Kitchen Table' actually feature a fully functional kitchen inside nothing but a long dining table, you would probably scoff at him or her. For there is nothing about this sleek dining table that would even give off the hint that it could be used for something more than eating.
However, a closer look would prove you wrong. As you edge closer, you will be able to start making out the myriad buttons, hatches and expandable slots that line the entire length of the table. From a fully functional sink and dishwasher to storage cabinets galore, this table has everything you would ever want in a kitchen. All you have to do is pull out the appliances and start cooking. Clear things away and simply push everything back into place to reveal an ordinary table that you can use for meetings. A touch screen interface on the table also allows you to access recipes or order food from outside.
3. Come Together Concept Modular Kitchen:
This modular kitchen by Albrecht Seeger and Martin Klinke is in fact a collapsible kitchen unit that you can assemble in three different sizes (small, medium or large) depending on space constraints and specific needs. The fully functional kitchen can work both as an active kitchen and as a dining countertop for up to three guests. The kitchen also features embedded seating that makes room for the fourth guest if needed.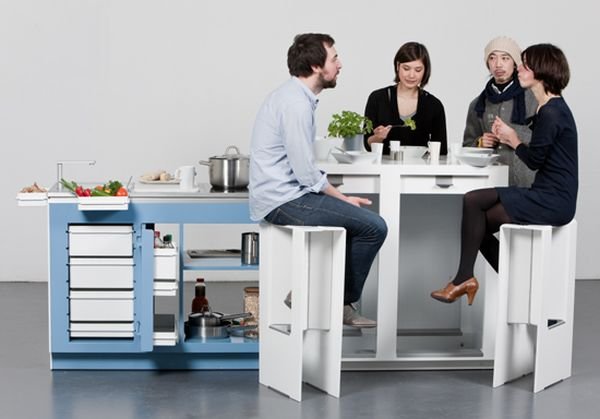 4. Aeolus Kitchen Appliance Concept:
Sometimes, the appliances used in a kitchen tend to make the space look more cluttered. A modular kitchen would therefore, also need to focus on appliances that multitask in limited space without any hassles. Enter the Aelous, a modular appliance that can be a great addition to your modular kitchen.
The Aeolus is a smart extractor that can remove even the worst of kitchen odors in seconds. What is interesting is the fact that it has been integrated smartly with a steel frame that features hooks and storage space for utensils and glasses.
5. Modular, Mobile Kitchen Concept by Bureau Kilian Schindler:
This rather unique modular kitchen concept would be the perfect choice for you in case you hate to get up from your couch in the middle of an interesting game or movie to cook the next meal. The mobile kitchen system does not tie to your cooking space, and you can easily assemble it in any room of your choice.
It features five modules, the sink, work surface, technology tower, storage rack and the butcher block. The different elements of the kitchen feature a simple to use plug and play design to let you assemble and de-assemble it without any tools. This means you can literally choose where you want the kitchen to be and what you want to have in it at any given time.
6. Foodlab on Wheels by Studio Rygalik:
This modular kitchen concept is similar to the one mentioned above, as it comes with individual elements that can be simply rolled out when needed and then rolled back into their respective places afterwards. This helps maintain the cleanliness and spaciousness of the cooking space.
The crate-like wooden modules feature wheels and can hold anything from cabinets to fridges and ovens. The open system design also brings in more airiness to the kitchen.
7. Celcius Modular Kitchen Appliance Concept by Marcela VanesaCespedes:
Considering the fact that recycling is taking the center stage in many kitchens today, it is only logical that you opt for recycling unit for your home. The Celcius would make it possible for you. The modular kitchen features a waste and recycling appliance that use enzymes to work on and break down organic waste. In doing so, it would create enough energy to heat up your home nicely.
8. Shaping Silestone Kitchen by Campanas:
Do you remember the quintessential Swiss army knife that never failed to amaze us with the sheer number of elements it hide under the seemingly elegant surface? Inspired by the Swiss knife, the Shaping Silestone kitchen concept comes with three individual elements, the stove, the work surface and the integrated table and sink.
When in need, these modular units come out from the central table, and then slides back when you are done with the cooking. The result is a striking sculpture that would take your kitchen's looks and functionality to new heights.