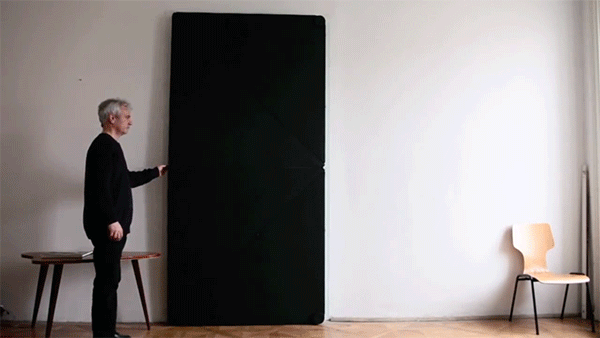 We know all about fold-able chairs, tables and even couches. But what about a door that folds into itself? Wait till you are wowed by the new and fascinating Evolution Door, designed by Australian artist Klemens Troggler. This unique 4-panel doorway revolves around two rotating squares that are strategically placed such that when pushed sideways, the door collapses in on itself like a piece of paper.
The ingeniously crafted "Flip Panel Door" consists of 10mm steel panels measuring 212cm x 108cm. The structure is made foldable by means of rods placed at one of the diagonals of the squares. The opening and closing of the door makes it look like an imposing alien spacecraft-door.
The technology behind this entryway is indeed awe-inspiring. Although it appears to be more of an advanced kinetic sculpture, the door gets stellar marks in functionality. It is generously space-saving and comes devoid of tracks. The door can also be built from soft materials to prevent fingers from getting crushed when caught in the joints
Though at present just a prototype, the Evolution Door is all about nifty design. Its complex geometric structure lends a surprisingly elegant look to the door. The fact that it folds daintily like an origami makes it all the more impressive.
The Vienna-based designer has been crafting rotating kinetic doors since 1997. Known for his somewhat eccentric prototype designs, his credentials include the Epitrochoid Curve System and the Screen System, all of which are available through Artelier Contemporary.
Via Colossal