Animal sobriquets are favorites with Studio Banana, as we found out in the case of the Ostrich Pillow. And, now the studio is back with their nifty, Arduino-compatible Kangaroo Light – a malleable lighting thingamajig that has the potential to be incredibly multi-functional when it comes to its usage pattern.
Exhibiting a very slim and lithe cross-section, the Kangaroo Light is hexagonal in shape and boasts of a manageable 'feather' weight. All these aspects coalesce to make the design utterly flexible in terms of form-factor, efficiency and usability. In fact, according to the creators, the funkiness of the contrivance allows it to be adjusted to our lifestyle, irrespective of the location – whether it is placed on a room table, showcased as a bathroom fixture or even used during outdoor camping.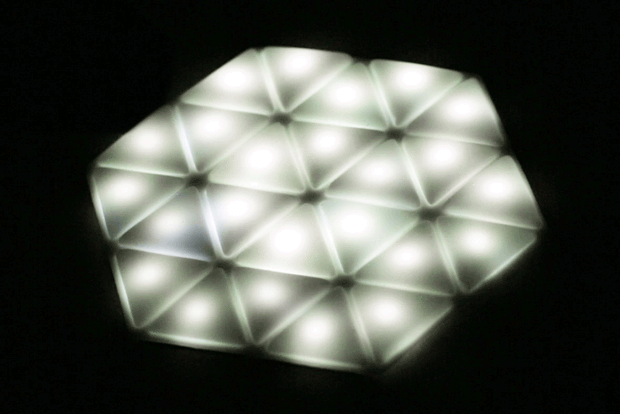 Interestingly, the scope is not only about the intrinsic flexibility of the design. The shell of the Kangaroo Light is made of high-quality silicone material that makes the lamp both water and splash resistant. Moreover, the triangular tessellations on the hexagonal shape were intentionally devised for optimized adaptability (of the light) to various scenarios.
Lastly, in terms of illumination, the Kangaroo Light has set of 24 built-in LEDs that are arrayed in such a manner so as to emit a soft glow from a single facade. The entire setup is powered by a Lithium-ion battery (with 2.5 hours life), and can be conveniently recharged via a USB port. Additionally, there is a 'programmable' side to the whole affair – with the Kangaroo Light's capacity to be customized through Arduino controllers, while also having various interactive modes that occur through integrated accelerometer and touch electrodes.
The product is currently going through its crowd funded Kickstarter platform, with pledges ranging from £40 ($68) for early birds to £350 ($595) for a set of 10 Kangaroo Lights.
Via: Core77