Spatial efficiency is one of the pillars of modern day architecture, especially significant with the cramped conditions of our urban areas. However, a well designed compact space doesn't necessarily entail the avoidance of our comfort for the sake of more circulation area. This is aptly proven by the 'hand-made' Tiny Tack House, a small and cozy bungalow-type living space in Snohomish, Washington.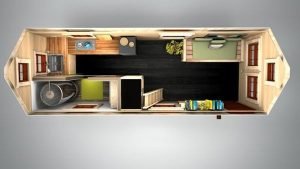 Designed by a married couple Malissa and Chris Tack, the portable house comprises of just a wood-clad, 20 x 7 sq ft dual axle utility trailer. However, beyond the compact credentials, the DIY house was actually 'hand-crafted' from salvaged wooden materials, and that too in under seven weeks (800 work-hours) with a budget of only around $20,000!
The inner volume of the Tiny Tack House does hint at spaciousness with an unobtrusive flow. This essence of 'expansive' proportions is partially derived from simple architectural techniques such as – use of gabled roofing, sky-lights and windows (a whopping ten of them!) for admission of natural lighting. As for its energy credentials, the house utilizes four solar panels for electricity, cedar linings for insulation and a recycled wooden barrel for the bathroom shower.
Finally, coming to the spatial features, the user oriented zones are designed along the edges of the interior, which allows a big part of the central space to be free for efficient circulation. For example, the bedroom is arranged in a second floor mezzanine loft, while the kitchen and bathroom are positioned below this loft. The central space in turn consists of the living room, which is conveniently accessible from both sides including the user zones and the entrance door.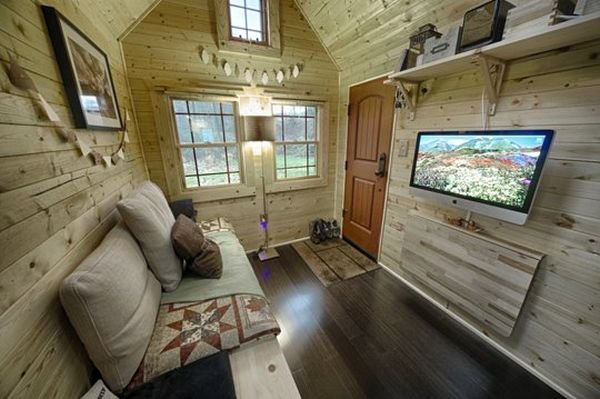 Via: Huffingtonpost / Apartmenttherapy