Our love affair with crazy Japanese umbrellas continues with the aptly named 'Vegetabrella' by H Concept. The odd looking brolly deftly mimics those green lettuce specimens one would come across in the supermarkets.
This nature-inspired replication 'comes to life' only when the umbrella is folded. In fact, the wrinkled fabric of the contrivance plays its part in imitating the natural foliage of the lettuce, while the brownish tip/handle serves as the crowning glory of the lettuce stalk. And, the deft touch is finally brought on by the purple strip that harks back to the ubiquitous tapes used in Japanese supermarkets.
As we can make out from the images, the Vegetabrella is substantially smaller than conventional umbrella designs. Of course, given its credentials as a prop project, the functionality unsurprisingly takes a back seat to the wow factor.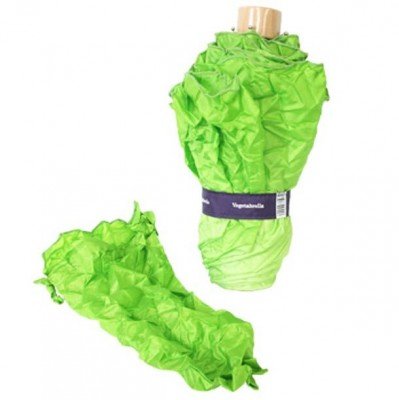 You can buy your very own Vegetabrella from the Koncent retail site for a price of 4,860 yen (around $48).