It may sound odd, but pillows are a great medium to mirror our hobbies and interests. We saw that in the case of the video game-inspired pillows, and now we have stumbled across something for the book aficionados among us. Christened as the 'Olde Book Pillow Classics', the designs from ThinkGeek feature original art, and look like your cherished classic tomes – Alice in Wonderland, Sherlock Holmes, and Treasure Island.
The oft used phrase 'I felt asleep while reading' does have its poetic effect when you can actually fall asleep on a softback book (sorry pillow…book pillow). And, the good part is – your book pillow can also be pretty comfortable with its outer hand-tooled polyester cover (that imitates the binding) and filling of polyester fiber and polyurethane foam.
Finally, in terms of originality, each pillow carries a famous quote on its backside from the original classic it is replicating. Moreover, the Alice in Wonderland pillow goes a step further with its capacity to be 'opened' as a single page.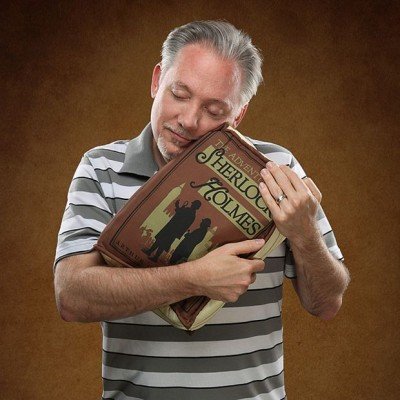 Dimensions: Sherlock Holmes and Treasure Island – 10-inches wide x 14-inches tall x 4-inches deep; Alice in Wonderland – 23-inches wide x 14-inches tall x 3-inches deep.
Buy (ThinkGeek) – $14.39 – $39.99.