Yes, we know Christmas is still more than a month away. But that shouldn't play spoil sport to our celebratory mood. In fact, we have decided to start up the countdown to this year's festivities with some home oriented designs that are pretty essential to Christmas decorations. We are talking about those delectable lamps that light up the home spaces in their own sprightly manner. So, without further ado, let us check out ten such charming and nifty Christmas lamps that delightfully elevates our holiday spirits.
1. fLume lamp
They say a picture is worth more than a thousand words. Well, that dictum holds true in the case of the fLume lamp, a Christmas light design crafted from discarded Christmas trees. Nigh poetic in its scope, the conception is the brainchild of the et al. Collaborative studio. Basically, the design process entails salvaging the used Christmas trees (that otherwise would have ended in chippers), and then clearing off the branches and the leaves. Finally, the remaining main trunk is re-purposed as a simple, minimalist lamp with its own definitive rustic essence.
2. Santa Claus LED lamps
Adding a dash of vibrancy to the Christmas decorations, nothing quiet revs up our spirits than the one and only Santa. Available in both packages of ten and in individual pieces, the delectable LEDs lights are made from PVC, which is white when not lit up. However, once you flick the on-switch, the lights showcase their sweet vivacity in various hues ranging from light blue, lime green to adorable pink.
For buying details, refer to this link.
3. 'Nightmare before Christmas' lamp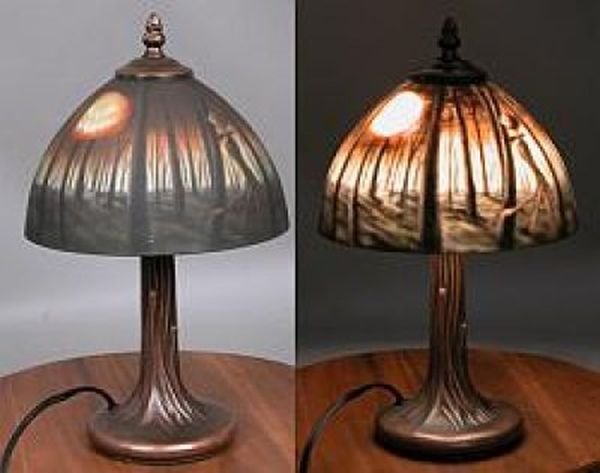 Those who have seen Tim Burton's classic, will surely identify the vivid yet stark theme on the 'Nightmare before Christmas' lamp shade. However, the best part is when you switch on the lamp, and the forest landscape transforms from a dark setting to a resplendent vista (with even the sun shining in its effulgent glory).
For buying details, refer to this link. (please note – the 2006 lamp is one of the rarest items among 'Nightmare before Christmas' collectibles)
4. Candela Christmas lights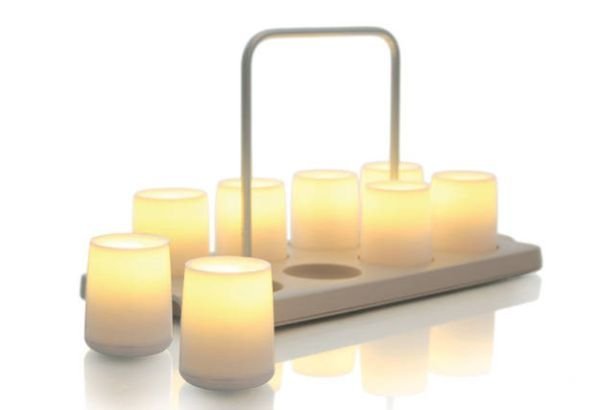 A great and safe alternative to candles, the Candela set of LED lights from OXO really notches up on the portability factor. Plus, they are rechargeable by virtue of their charging base, and can provide their adorably soft aura for eight long hours on a single charge.
For buying details, refer to this link.
5. The 6 ft tall Leg Lamp inspired by 'A Christmas Story'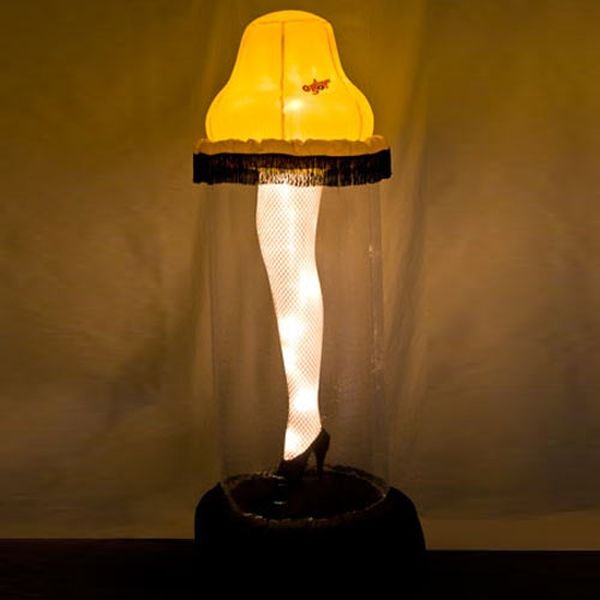 The iconic Leg Lamp design from 'A Christmas Story' has been iterated numerous times by various designers and DIYers around the globe. However, for our entry, we have opted for a gargantuan 6 ft tall Leg Lamp emanating its humongous version of 'electric sexiness'. And, the best part is that the entire contraption is inflatable, thus improving upon its usability scope.
For buying details, refer to this link.
6. Vintage Christmas Lamp
A patchwork lampshade from the city of Lyon, France, the entire contrivance harks back to the all-Americana era of the 50's. In terms of design, the Vintage Christmas Lamp is handmade from a variety of materials, including PVC, paper and ribbon. And, yes, on closer inspection, we can identify the classic Christmas-y motifs, like – Santa Claus, frosty snowman, red queen and of course reindeer.
For buying details, refer to this link.
7. Floral patterned Christmas Lamp
The above pictured resplendent lamp with vivid essence and intricate facades is actually owned by a resident from the mountainous Indian state of Gangtok. Unfortunately, we do not have much info on the conception, except for it is 'washable, unbreakable and light weight'. And, the good news is – the owner wants to sale the product from online avenues.
For buying details, refer to this link.
8. Color Changing LED Christmas Gift lights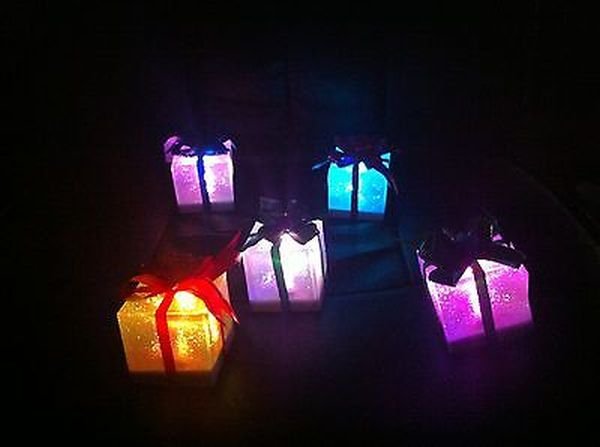 What is the best part about Christmas? Of course, the answer is gifts. So, why not celebrate the Christmas tradition of giving (and receiving) gifts with its own dedicated lighting mechanism? Well, that is exactly what this contrivance achieves by delectably mixing vibrancy with those eagerly anticipated gift packages.
For more buying details, refer to this link.
9. Handmade Christmas Lamp from CDs
Let's get honest for a minute – CDs are about to be extinct in a matter of few years. And, we all have our fair share of decrepit MP3s and CDs that have seen better times. So, why not give them a second life, like the above pictured handmade Christmas Lamp? The external facades are made of CDs, thus making use of their 'rainbow pattern' to create an even more vivacious ambiance. The internal paraphernalia on the other hand is composed from conventional LED strings (that also project out from the middle of the discs).
10. Christmas light wad lamps
We end our list with another DIY conception in the form of the Christmas light wad lamps. The simple and effective lighting solution is pretty cheap and more importantly easy to assemble with the help of just some glass containers and light strings.
For more details on the arranging process, check this link.