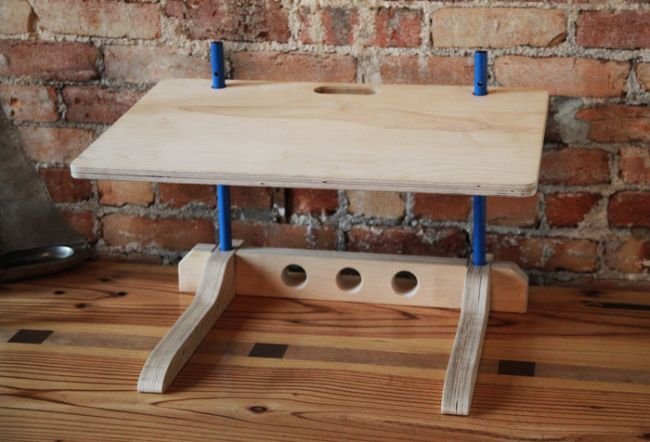 Standing up while working is a good posture to follow occasionally, when you are spending some considerable amount of time at your work-space or office desk. But the predicament of this scope (beyond our bouts of laziness) is that most conventional furniture items are not designed ergonomically to suit our standing posture.
Well, the aptly named NEW Desk (or Natural Ergonomic Workspace Desk) fulfills this engineered quotient, with its twin advantages of adjustable capacity and lightweight nature.
In essence, the NEW Desk is a portable and minimalist piece of furniture that can easily set up by the user himself/herself. As demonstrated by the GIF above, the design is envisaged as a smaller desk that can be arranged atop a higher flat surface, like a bigger desk or a table.
According to the creators (from Bolton 1 Design), the assembling process only takes around 30 seconds – with the unscrewing of the supports legs, and then placing a top board along the projecting rods from the base.
The simple, straightforward arrangement does account for structural integrity, with the furniture's touted capacity to support 50 lbs. And, the best part is – this weight is countered by just 11 lbs of the NEW Desk's total weight, which endows it with the much needed mobility factor.
So, in case you are interested in the posture-solving project, do check out the ongoing Kickstarter campaign, with prices available from $150 (for steel supports) to $200 (for carbon-fiber supports).