Earlier we had talked about vintage style decoration tips for our home sweet home. But this time around, we will keep things a bit simple with easy yet effective projects that could be individually achieved within a single day.
So, if you have missed your work day out of sheer whim (we don't judge!) or you are just languishing with the boring 'neighbors coming over' weekend, do take a quick gander at ten simple ways you can improve your home's decoration, style and storage.
1) Creating your own wall-art –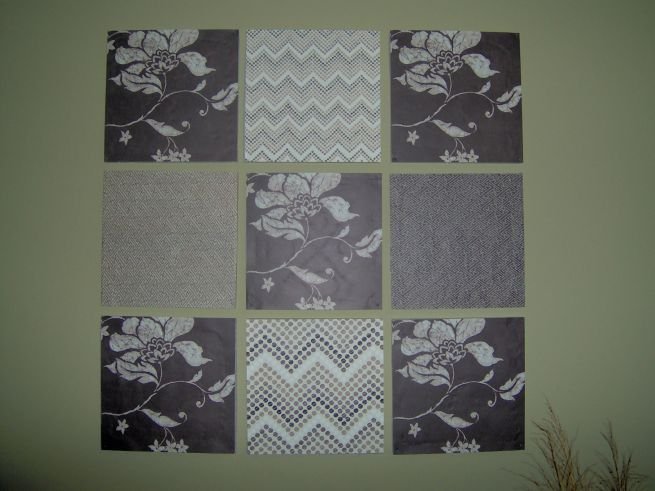 And no, we are not talking about painting or stitching your own wall-art. But you can certainly make use of your creative faculties to arrange an artist's smaller canvas specimens.
The good thing about such an assemblage is that it tends to be spatially compromising than an expansive art-work. So, you can cover those small but ugly wall spots, while also endowing an avant garde essence to the arrangement.
2) Painting an accent wall –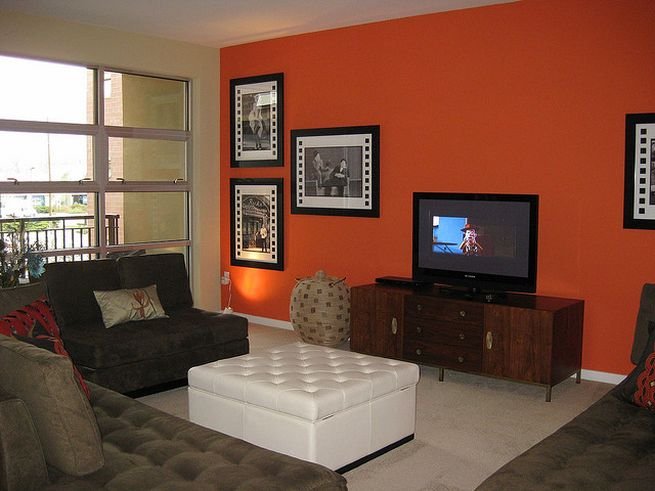 Painting a single wall facade takes much less time than painting the entire home interior. And what's more; accent walls can seriously notch up on the vibrant quotient of a room.
There is only one tip to remember here – lighter and brighter colors are better for reflecting more natural light. So, you can surely use this technique for mainly north-facing rooms that do not receive much lighting in regular times.
Oh, and lest we forget, wallpapering an accent wall also serves the same style purpose.
3) Making shelving systems out of simpler items –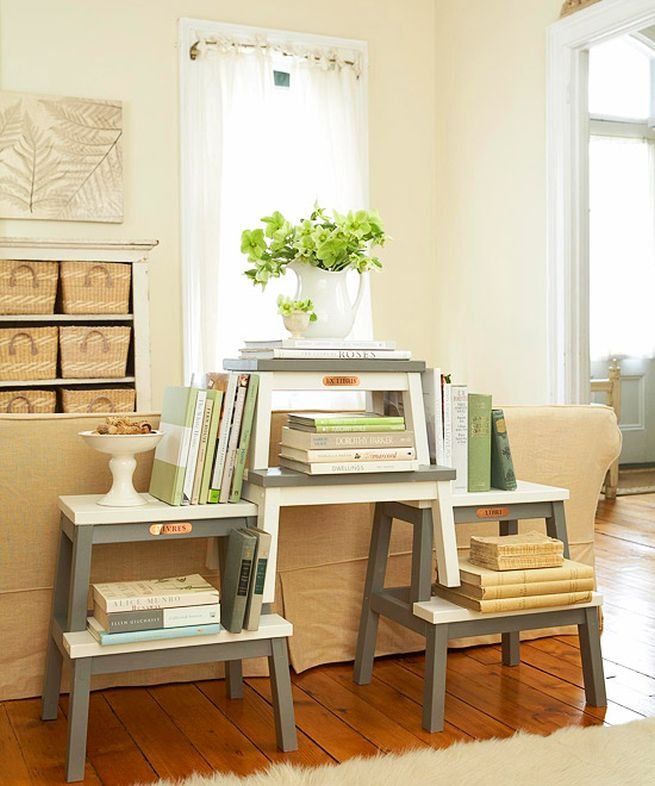 Building a true shelving system by yourself is quite a DIY endeavor. However, making a makeshift shelving system is not that much of a big deal.
As we can see in the above image, a cool cat has successfully contrived a bookshelf unit out of just arranged tools. Of course, you can make use of other items like custom-made panels and smaller household pieces.
4) Crafting nifty coffee table from mundane stuff –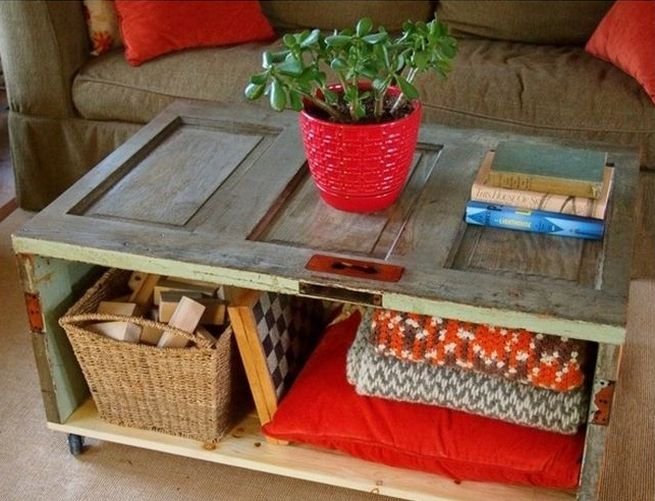 Just like makeshift shelves, you can also opt for groovy coffee tables made from unassuming items lying around the household.
For example, the above picture shows a rustic coffee table ingeniously crafted from old door panels. Other items like wooden blocks and MDFs can also be used for a simple yet special DIY project.
5) Embellishing your dining room –
The place where you eat should be aesthetically pleasing. Once again reverting to the above image, on closer inspection you will see the table without those covers and napkins is just a drab specimen.
However, the designer has made use of various surrounding items, including the chic chairs, the flower arrangement and even the adjacent curtain shades to bring out an improved elegant essence of the space.
So, the lesson here is – arranging skills equate to a personalized touch to the dining room.
6) Customizing curtains –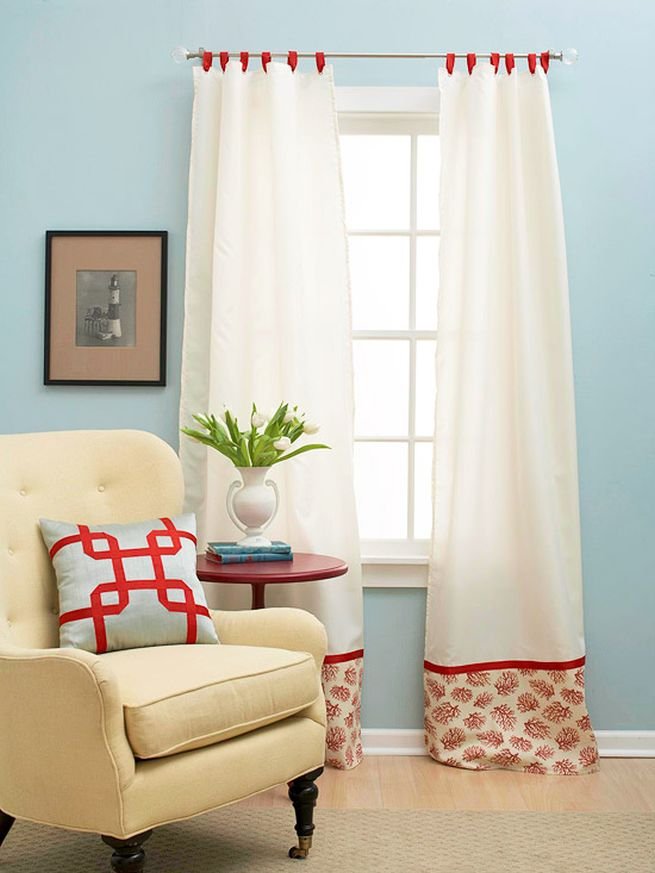 In the previous entry, we fleetingly mentioned something about curtain shades. Well, as it turns out, making your own customized curtain is pretty simple.
You just have to get hold of an expansive sheet. Feel no remorse when cutting it in halves, and then try to 'dress' the bottom with other salvaged fabric patterns.
You can also opt for stenciling, in case you have something more quirky in mind.
7) Keeping hidden storage spaces underneath your bed –
Perhaps the most under-utilized space in our bedrooms is beneath our beds. So, if you have sufficient ground clearance available, you should consider salvaging drawers from your neighborhood flea market.
Drawers can be constructed in a sliding system (as shown in the above image). However, we would recommend attaching cheap roller wheels to the drawer blocks, thus making it an easier DIY process. Moreover, you can also paint the storage units with the same hue to achieve uniformity of style.
8) Making better use of kitchen cabinets –
Why waste the inner section of a cabinet door? Command strips and tiny containers can come to your rescue for keeping those small items, be it ingredients or special condiments.
And, the best part is – these smaller storage units are completely unobtrusive to the working scope of the original cabinet.
9) Endowing spa-like ambiance to your bathroom –
A pretty elementary technique entails – enhancing the lighting and odor of your bathroom to give it a spa-like feel. This means, you should choose for tepid lighting components that allude to a more intimate aura.
Complementing this should be the oft ignored scope of fragrance. This can achieved from numerous products available in the market, ranging from aromatic candles to essential oils.
Furthermore, you can up the ante by adding spa accessories, like sea sponges, loofahs and candle treatment supplies.
10) Re-organizing your existing furniture pieces –
Probably the easiest and cheapest option available for the lazy ones among us is to simply re-arrange the existing furniture items with a certain degree of decorum.
Organizing our bedrooms, living rooms and home offices is not only about the physical level of cleanliness, but also go a long way in loosening our mentally stressed state.