Hi-tech accessories are surely good for holiday season gifts and a bit of your adult play time. However when it comes to the realm of safety, security gadgets still remain your home's primary line of defense against perpetrators.
So, we have decided to compile a list of ten such useful security gizmos that notch it up on the safety factor. And, by safety, we not only mean a physical barrier (walls still do great job), but also a scope of technology and surveillance that allows the home owner to be better informed and prepared.
1. National Hardware Door Viewer –
As evident from high ratings across online stores, we start off our list with a pretty simple yet utterly efficacious National Hardware Door Viewer. Basically a peephole mechanism, the contraption comes with a much greater viewing angle with 200 degrees, which is achieved via four precision-ground glass lenses.
This means you can gawk at anything between your front porch doormat and the clear blue sky, all from the safety of your house. This is complemented by a sturdy housing made from polished brass, while the pricing is also kept on the lower side.
Price – $6.
2. Digital Peephole Viewer Camera with LCD Monitor –
Giving a technological twist to the age-old concept of peepholes, we have come across the advanced Peephole Viewer for remote surveillance from within your home. The good thing about the conception is that it can easily installed within five minutes, while you can have over 1,000 camera views powered by a set of just two AA batteries.
Furthermore, the clarity and size of the accompanying LCD screen makes for a good viewing angle of the live feed from outside your front door.
Price – Ranging from $48 to $160.
3. August Smart Lock for doors –
Sleek, smart and quite effective – the August Smart Lock from Yves Behar and Jason Johnson exhibits an elegantly circular anodized aluminum case that fits over the inside part of a door's existing deadbolt hole. The svelte 2-inch tall form factor can prove to be quite unobtrusive, so that it doesn't awkwardly project from your door.
More importantly, the August can be remotely controlled with a smartphone app via Bluetooth (instead of internet), thus hugely improving upon the usability scope.
Price – $199.
4. iFingerLock unlocks with your verified fingerprints –
Designed as an anti-theft padlock, the iFingerLock recognizes the owner's fingerprint pattern with its biometrics recognition technology. This totally avoids the need for those dastardly physical keys and combination codes that have a way of getting lost or forgotten. In other words, your biological fingers act as the master key.
Additionally, the padlock device has the capacity to verify up to ten different fingerprints and a unique USB key for managing the stored fingerprint patterns. This means the cool contraption can be also unlocked by your family members and trusted friends.
Price – $75.
5. Skybell for answering your door from mobile devices –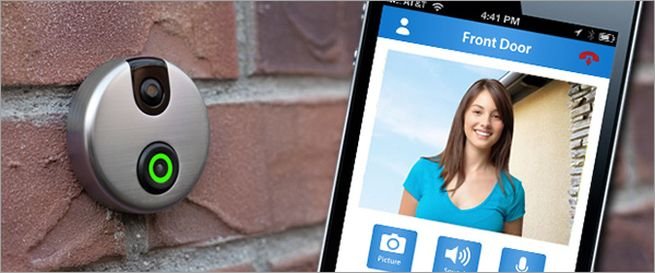 We have already harped about smart locks and biometrics infused padlocks. But Skybell takes things to a practically 'social' level by allowing you to talk with strangers at the front door from the nestled safety of your house or anywhere in the planet.
The entire kit comes with a day and night vision camera, speaker system, microphone and motion sensor. As for its working scope, the Skybell connects with the net (WiFI, 3G, and 4G LTE), which allows it to send audio and video feed of the visiting person to your mobile device (Android or iOS).
So, you have many options at your disposal including – seeing, hearing and speaking with the 'guest'.
Price – $199.
6. InvisiFilm for windows –
We have prattled long about door oriented mechanisms, and now it is time to move on to windows. Well, InvisiFilm is not strictly a gadget, but rather a security contrivance that comprises of polyester window film.
But more importantly, its uses are multi-faceted in nature, with advantages like smash-proof protection, glare mitigation and even energy efficiency (due to the film's reflective property).
However, the best part about the heavy-durable layer is its easy installation criterion that entails direct, DIY application over your conventional window glass.
Price on request. Also check out InvisiBars, for window based security.
7. Netgear's VueZone night vision camera –
Acclaimed as one the very few domestic camera systems that is completely wireless in its scope, Netgear's VueZone can be controlled from mobile devices as well as PCs.
The definitive feature of the set-up would surely be its night vision credential, which is achieved via its 850 nm night-vision IR filter, complemented by full-color CMOS image sensors. The dual camera system also boasts of advanced motion sensing capability that can send hi-res JPEG snapshots to your remote device through email.
Price – $200
8. Mat-On-Guard Pressure Door Mat –
Tailored for those who are not really keen on hi-tech gadgetry and beefed up security features, the Mat-On-Guard just lets you know when someone has entered your home. It does does by simply uttering an alerting chime, when the pressure (from the person's feet) on the mat triggers its built-in transmitter and sends a wireless signal to an audio unit.
The conception is specially handy during the mornings, when many of us keep our doors unlocked when we are inside the house.
Price – £50 (around $83).
9. A working Wall Clock with hidden safe –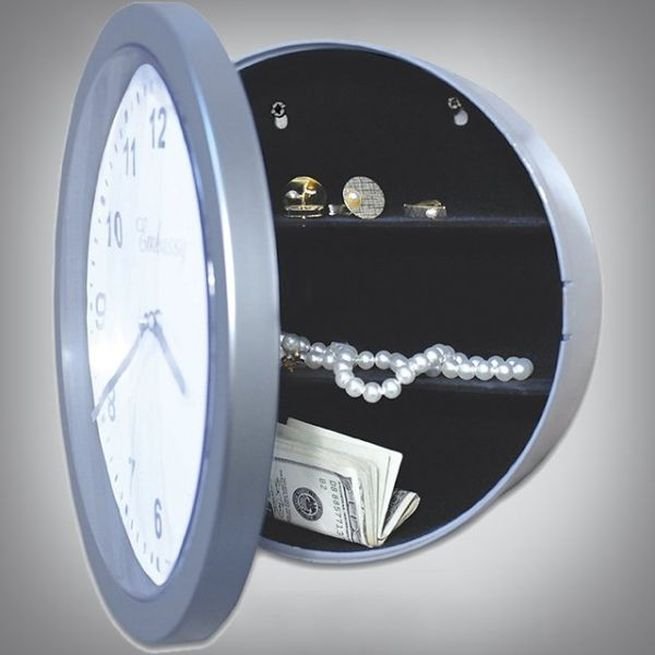 There are times when simple deception is tantamount to crucial safety. This time around, we are talking about the safety of your valuables, and how they can be hidden by a deceptive wall clock. In regular circumstances, the contrivance poses as a conventional clock.
But as we can see from the image, it has a secret compartment which can be easily opened with its straightforward hinged design. This makes it a perfect accompaniment to your bedroom decor for hiding away your jewelry and cash.
Price – $18.
10. Fake TV Light mimics a television –
We pay homage to the holiday classic 'Home Alone' with our last entry. The above pictured Fake TV Light enters the security picture with its 'decoy' abilities that deters burglars from entering your home's compound.
As its name suggests, the lighting mechanism mimics the luminous effect of a 27-inch LCD television screen (when viewed from outside through a window).
So, even when you are blissfully asleep, the potential burglar is led to believe that you are gleefully enjoying your late night shows.
Price – $34.