Last year, we talked about the Circular Calendar, an interesting wall piece that shows the sun's position throughout the year. With the help of the handy contrivance, you could plan for the sunny days well in advance.
And, now we have come across a similar design, albeit with an essence of certainty to it. We are talking about the Free Days Calendar series, a charmingly designed visual wall planner from Half Three that shows your yearly holidays.
So, what makes it different from regular calendars? Well for starters, the Free Days Calendar only shows the free days you get in the year 2014, which are displayed according to the months. These days include the normal weekend holidays along with special holidays, like Thanksgiving Day or Halloween.
And as we can deduce from the special holidays, they vary from country to country. Accordingly, there are different versions of the Free Days Calendar available for UK, Australia, USA and Canada. For example, the blue color coded calendar is for USA, while the red color coded calendar is for Canada.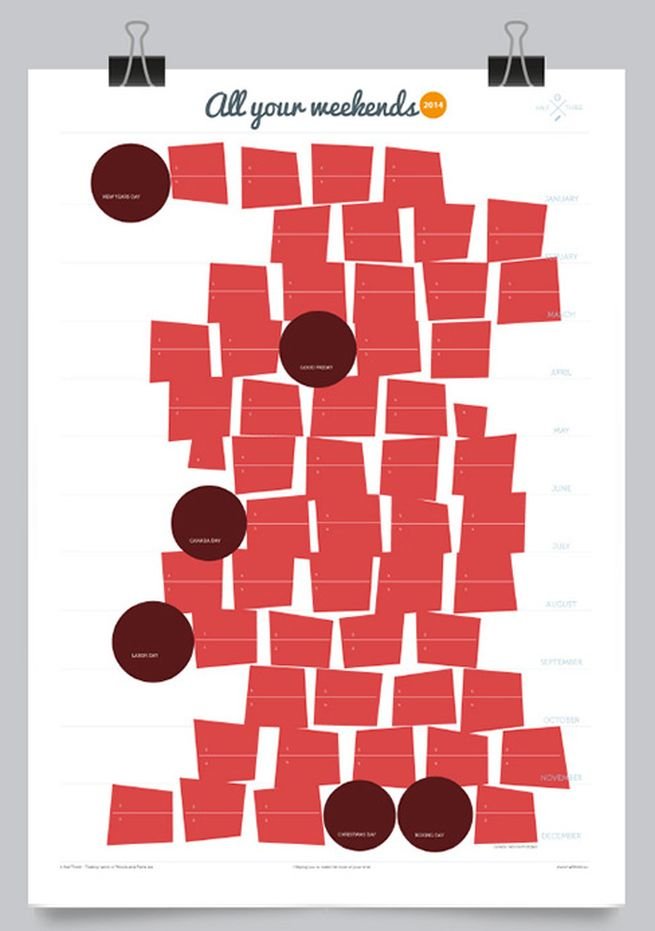 Lastly, the eye-catching design with the delightfully vibrant fonts does make for a lighthearted, quirky yet useful wall-based artwork. And the best part is – the calendars are all free to download
from Half Three's home website.
Via: DesignBoom