For those who don't know, video gaming is a serious business, and by serious we mean $60 billion serious! So, it really comes as no surprise that gaming has taken its much deserved place in the pantheon of popular culture. This obviously means – a huge, ever booming, commercial ambit. And this 'marketable' force in turn has inspired numerous ingenious designers from around the world to contrive rad accessories with the groovy video game themes.
So, without further delay, let us present 10 such super video game-themed home accessories that would surely put a smile on your face (and we don't mean the creepy Joker-esque way!)
1) Tetris Heat Changing Mug –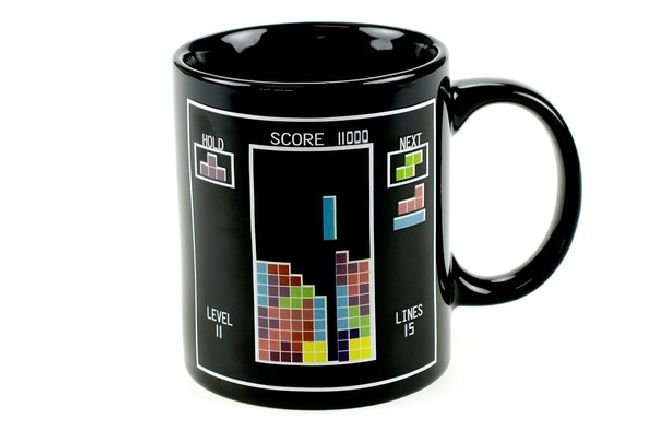 Created by Paladone Products, the above pictured ceramic contrivance is of course no ordinary coffee mug with some Tetris graphics. The conception is rather entails a Heat Changing Mug that not only allows you to fill the cup with some hot beverage, but also gives you the glorious satisfaction of watching those heat activated blocks fall in place. The built-in 'game' activates from any heated liquid, but be warned – do not use dishwasher to clean the mug!
Buy – $9.99
2) Arcade Alarm Clock –
Standing tall at 15 cm, the Arcade Alarm Clock boasts of its unique form factor that mimics the namesake arcade machines. The enticing clock mechanism further showcases its LCD display, snooze function and joystick-like controls for programming the device. In short – it gleefully harks back to the retro-fueled romps of yesteryear video gaming.
Buy – $14.29
3) Ghost Chaser Shade –
Holy cow Batman! The Ghost Chaser Shade flaunts its fantabulous Pac-Man motif comprising of an graphical array of consoles, controllers and hand-held devices. And if this magnificently cheeky contrivance doesn't bring tears of joy to your geeky spectacles-laced eyes, nothing will.
Buy – £99 (around $166).
4) Mario Question Mark Block Lamp –
With an astronomical 856 million copies being sold by the exalted franchise, there had to be a Mario-themed accessory. Well, Etsy-based TheBackPackShoppe has fulfilled this deserving quotient with aplomb, with their remarkable Mario Question Mark Block Lamp. Made from an assortment of materials like acrylic, poplar and colored paper, the lamp shall prove to be your guiding light in the face of many 'villainous' adversities, be it Bowser or the Covenant.
Buy – $79
5) Nerdtendo Gamebooze flask –
Yes, now we even have the righteous privilege of taking our favorite liquor the geeky way. The outer skin of the 'Nerdtendo Gamebooze' mimics the exalted Nintendo Game Boy, while the structure of the flask is crafted from stainless steel wrapped in high grade vinyl. This vinyl in turn is held by a super-strong adhesive which according to the designers – 'attaches itself all the way around the flask.'
Buy – $19.99
6) Pint glasses with classic video game imagery –
Since we have brought up the 'art' of consuming booze, the Pint glasses are quite eye-catching, especially when you are taking swigs of cold beer and reminiscing about those good ole days of gaming. The crockery item displays simple prints of well known games like Galaga, Pac-Man and Centipede, and who knows – they might just start moving after many a beer can!
Buy – $20
7) Street Fighter Wall Decal –
Handmade by Etsy-based shop JamesBit, the vibrant ingredients that went into the creation of these vivacious decal specimens includes – vinyl, ink and pixels. And more than just the materials, it is the unique level of 'competitive' aesthetics that really tickles our fancy. In a nutshell – this is a great decor item to shift the focus from your otherwise paltry living room furnishings.
Buy – $45
8) Retro Video Game Cartridge Pillow Set –
Following on the heels of 'Wreck It Ralph', these charming pillows pay homage to the original arcade gaming made popular by the exalted Nintendo. The plethora of images on the pillows depicting unicorns, devils and volcanoes are actually non-existent games like Unicorn's Revenge and Lava Jump. However, any true video game enthusiast worth his salt would certainly acknowledge the pixelated imagery, and reminisce about beauties like Super Mario and Donkey Kong.
Buy – $24.99
9) Mario themed doorbell chimes coin collecting sound –
The Italian plumber with a penchant for saving princesses, has now made his debut in the realm of doorbells. Yes, you have read that right – doorbells!. YouTube enthusiast Joe Tsai has ingeniously devised a Mario themed doorbell that gleefully chimes the sweet sound of collecting coins in the game, while also displaying the gold count.
It is a DIY project. And, if you want to make one, follow this tutorial.
10) Donkey-Kong inspired Shelving Unit –
Interestingly, the very level design of the classic Donkey-Kong is pretty similar to a shelving unit. Well, designer Igor Chak has certainly noticed this, as is evident from his impeccably created Donkey Kong shelving system. Made from sturdy components like carbon fiber, anodized aluminum pixels and stainless steel rods, the shelves are deftly 'topped off' with glass tops.