Modern day bathtubs may have notched up their technology levels to meet our contemporary standards of comfort. However, bathtub as a specific bathing tool has existed for over 3,000 years, with many credible specimens being found in Mohenjo-daro ruins. And, since we brought up history, there is a certain modern trend that alludes to the more primeval nature of cleansing our bodies.
Natural bathtubs are products of this trend, and as such they fascinatingly replicate the 'relaxing' design style of tubs our predecessors might have employed thousands of years back.
So, without further ado, let us check out eight such imposing natural bathtub designs that hark back to the antediluvian times of human hygiene.
1. Granite Bathtub from Stone Forest
Looking like a bathtub chiseled out of solid stone, the conception in actuality is a deftly designed product with remarkable attention to details. On closer inspection, we can see the smoothly bored out tub space on the inside which is starkly in contrast with the roughly hewed features of the outer facades. As for the commercial side of affairs, the product is available in marble, granite and even bronze.
2. Crystal bathtub by Baldi
Crafted from huge chunks of natural crystal rock that were actually excavated from the Amazonian rain forest, the gorgeous bathtub specimen was designed by Italian company Baldi. There are actually two separate conceptions created out of the excavated crystal rock chunks, with one being sold to a Russian magnate for a whopping $860,000; and another being sold to Harrods for an astronomical $790,000.
3. Artistic bathtub made from composite materials
While the above pictured design showcases a harmonious shape, the texture of the facades display an organic pattern alluding to a natural form. This original essence was derived out of the usage of variant materials like ground marble, fiber reinforcement and polymer resins.
4. Amethyst Bathtub
As the name suggests, the bathtub is crafted entirely from the semi precious stone of amethyst. And, once again like the previous entry, in spite of the balanced form, it is the organic natural pattern of the stone that endows the conception with a flourishing luxurious essence.
5. River Stone bathtub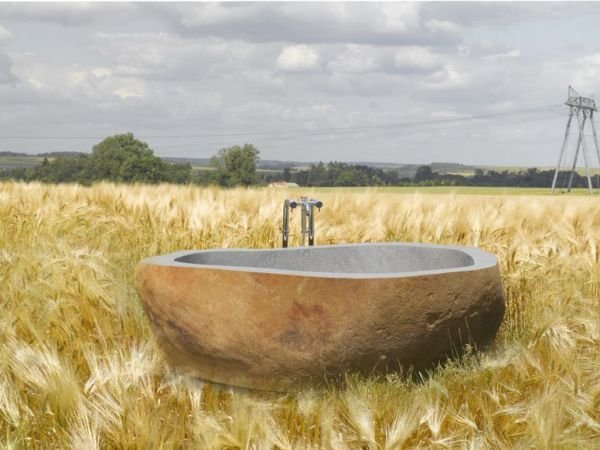 Made from an original stone specimen found along a river bank, the above pictured bathtub seems to be completely monolithic in nature. In fact, in many ways, it is quite similar to the magnificent conception by Stone Forest.
6. Modern natural bathtub from Carved Stone Creations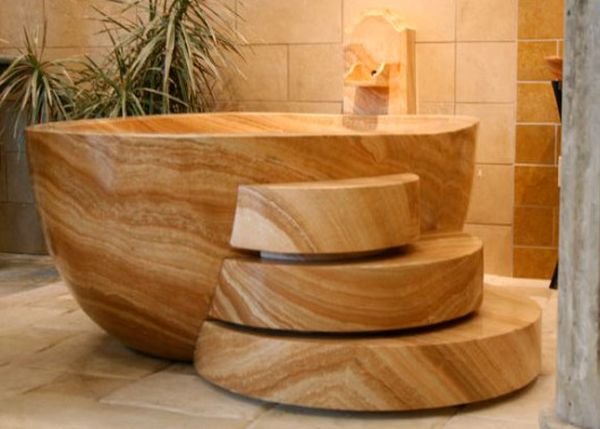 We genuinely like the way the tub replicates the outer pattern of wood. However, quite remarkably, the natural tub is crafted out of onyx, thus alluding the natural scheme of things. And, in case you are baffled by the imposing nature of the contrivance, it comprises of some deftly designed steps (also made from onyx) that leads to the bathing space inside.
7. Boulder bathtub from Your Stone Bath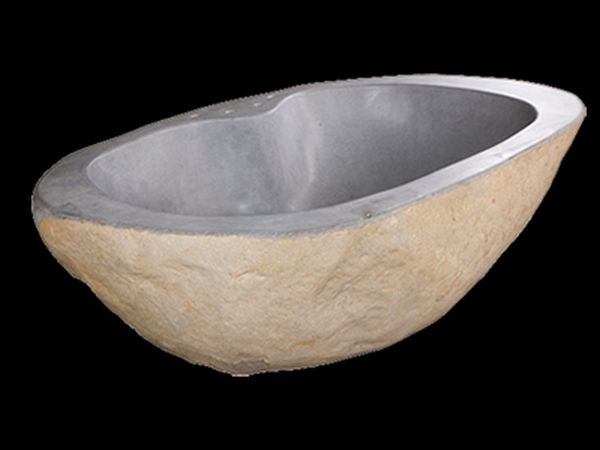 Hand crafted and carved by professional stone workers, the bathtub is made from natural boulders. According to the company, each of their designs is unique in its own right as the materials sued for the conception (types of stone specimens and boulders) organically differ from one another. So, in a sense, the tubs also pose as prized collector items with an original essence of their own.
8. Wood bath from Adagio
This time around, the wooden credentials are real enough. Gorgeously conceived from sustainable Umbila (an African variety of hardwood), the bathtub exhibits a subtly curving form. The natural elegance of the design is further complemented by seven layers of natural varnish, thus creating an aura of sylvan glory.