According to a startling statistical figure from the American Pet Products Association, more than a whopping 68 percent of the American households own at least one pet! Assuming that majority of such furry companions live indoors, the interior designs of our homes become paramount, especially in their relation to a pet-friendly scope. Fortunately, designers from around the world have successfully managed to contrive various types of delightful furniture items effectively tailored to your pet's ergonomic considerations.
So, without further ado, let us check out ten such cat-friendly furniture creations that might just account for the design sweet spot for both you and your feline friend.
1) Cat Tree from Wohnblock –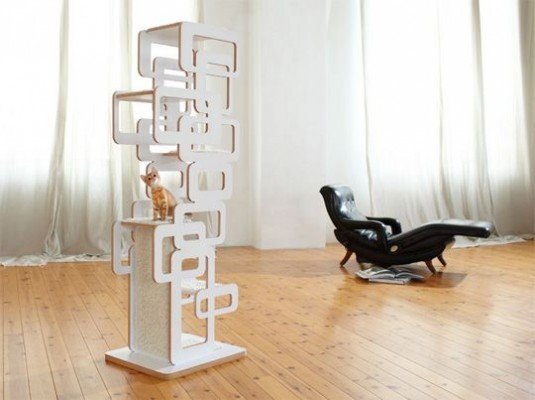 Designer Oliver Kriege (from German studio Wohnblock) has given a Cubist update to natural trees, and the glorious end result is the eponymous Wohnblock – a vertical setup for cats. Envisaged as a modernistic 'synthesis of aesthetics and functionality', the installation does come in handy as your cat's compact 'playground', while at the same time posing as a sculptural centerpiece of your living room.
Price Range – above $2,000.
2) Necobaco Cat Tree from Clavo –
The customized Necobaco Cat Tree comprises of a fascinating combination of carpeted cantilevered shelves and hollow boxes. This compelling resin-treated arrangement allows your feline friends plenty of flexible space to traverse and snuggle in. And, the best part is – you can also transform the vertical assembly into a full fledged shelving unit for books or interior plants.
Price – NA
3) Modular Cat Climbing Wall from Catswall Design –
A simple arrangement can make wondrous changes to the pet-inspired ambiance of your interiors. The cat climbing wall installation from Catswall Design aptly proves this point with its deft modular features. The boxes (with variant void shapes like fish and cats being carved into them) can be easily suspended along the aluminum hanger plate grid (draped in PVC veneer stickers), while the entire configuration is safely screwed to the wall facade.
Price – On request.
4) Wall-Ceiling Arrangements for Cats from Goldtatze –
Announcement to all scratching posts and litter boxes; please make way for the grandiose wall-ceiling arrangement from German studio Goldtatze! Magnificently replicating the perched vantage points that cats seem to prefer, the groovy assembly comprises of an assortment of landings, walkways and wall projections. Moreover, all of these components can be customized in accordance to the area available in your room.
Price – Depending on the room.
5) Cat Bed from Cedel Pets & Style –
Many of us do have a tendency of elevating our pet cat's status to an affable human friend. So, why not notch it up a level, and buy a whole bed set with its own pair of night stands for your kitty?! Well, Cedel Pets & Style sates your propensity to pamper your cat, with their Paradise wood-crafted bed designs. And, yes – the drawers do open!
Price – $1,500
6) Elegant Cat Litter Box/Bench –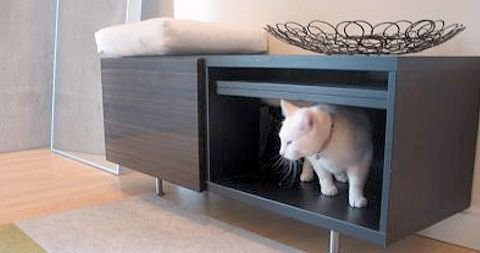 Till, now we had been harping about commercially designed cat-friendly furniture designs. But in the case of the above pictured design, the creation was entirely customized for personal usage. Two Chicago-based architects who live with their cat, came up with a solution of securely hiding the cat box inside a semi-open storage space. The litter is kept in the left section (with a cover), and the two internal spaces are connected by a hole through which the cat can easily traverse!
7) Purrshire Play & Scratch Cat Activity Center –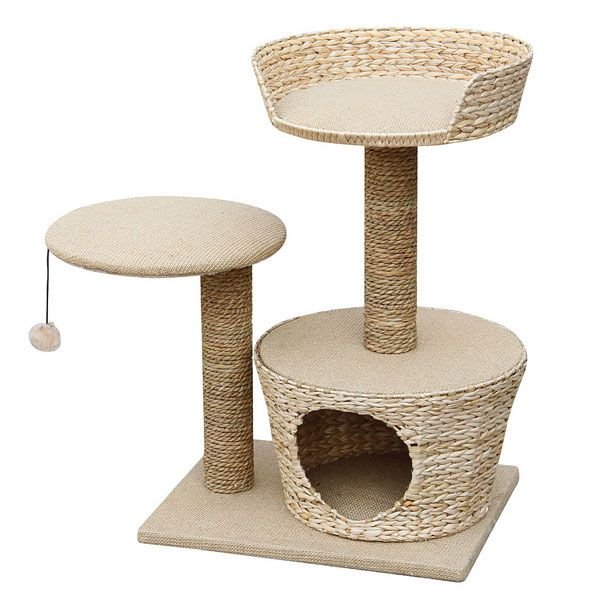 Combining compact dens, scratching posts and low-height perching zones, the Purrshire Cat Tree is surely the collective furniture item to cater to your pet. But what really makes it stand out from other 'tree' designs is the organic essence that is exhibited by the natural building materials (for the beds and dens) that were salvaged from water hyacinth plants.
Price – £40 (around $67).
8) Lifelike Adult Medium Cat Tree House –
Another nature-influenced installation for cats, but this time around the inspiration goes beyond the visual quotient. That's right,  the custom-made pet tree house has real trees to provide your cat with natural scratching posts. This naturalistic scope complements the high standard of craftsmanship showcased by the small houses and the low-height landings above it.
Price – $999
9) CATable by Ruan Hao –
'It is a table for us, and a paradise for cats' – this is how designer Ruan Hao has described the CATable, a uniquely contrived table catering to both humans and cats. Filled with angular recesses, the internal spaces give your cat plenty of opportunities to explore and sate its curiosity. And the advantage for the user is – you can carry on with your work while your pet is busy finding out the 'mystery' behind the curvaceous crannies!
Price – NA
10) Cat Burger Pillow –
Fun, whimsical and potentially effective – the contrivance must have Japanese credentials! And, while the scripted poses are there to do all the wooing, we should also give a thought to the viability of a two-side covering, sandwich shape that might just snugly cradle our furry companions.