Christmas espouses the essence of goodness and simplicity. So, we have decided to compile of list of ten such 'modest' kitchen accessories that would mirror the holiday spirit with their ease of usage and practicality. And, the best part is – most of these handy items would go light on your pocket; while pertaining to a wide scope of purposes, ranging from yolk extractors, kitchen scales to cleaning accessories.
1) Quirky Pluck Yolk Extractor –
Christmas time doesn't necessarily mean that you have to forego your health in favor of fat-dripped goodies. To that end, the Quirky Pluck Yolk Extractor makes sure that you are not gorging on egg yolk omelettes – with its ability to easily separate the egg white from the yolk.
It does so with its silicon chamber that JUST sucks the egg yolk after the compartment has been tepidly squeezed. As a result, only the egg white remains in the bowl, while the yolks can be gathered for other purposes – like making confectioneries. And, in case you are worried about the mess, the Yolk Extractor can be simply detached into two parts that makes the cleaning angle much easier.
Buy – $6.
2) OXO Good Grips Poultry Lifter –
When it comes to poultry lifters, it is OXO that rules the 'roost' (do excuse the pun). And now with Christmas in the horizon, the accessory becomes that much handy for shifting your hot-cooked bird from the kitchen to the dining table.
To that end, the lifter boasts of a non-slip handle with an ergonomic grip, and stainless steel tines for securing the poultry. All of these attributes are complemented by the angled construction that allows for easy leverage – with the lifting action being done from below the cooked bird's breast.
Buy – $10.
3) iDevices Kitchen Thermometer –
The moniker of just a 'thermometer' doesn't do justice to the iDevices Kitchen Thermometer, since the wireless device does so much more than just gauging temperatures.
Some of these groovy features include temperature presets, ability to be regulated on a remote basis, and even a fuel indicator for your kitchen's gas tank. But the 'piece de resistance' is arguably the dedicated iOS app that gives you net-based access to recipes, timers and cooking temperature notes (that can be shared via online cloud).
Buy – $80.
4) Drop Smart Kitchen Scale –
For the uninitiated, baking and cooking are forms of high-precision chemical processes. And, since tiny grams of excess or reduced ingredients can disastrously result in the loss of taste and flavor – it is always advised to play it safe with correct measurements.
Well, the Drop Smart Kitchen Scale can help in this precision-oriented endeavor, by virtue of its 'intelligent' scale that wirelessly connects your trusty iPad via Bluetooth. In other words, you can separately check out the precise measurements on the tablet's screen, thus eschewing the cumbersome scenario of a regular scale-display getting messed up with food particles.
Moreover, the Drop also features a 'smart assistant' app that entails more streamlined measurements for entire recipes in an automated manner.
Buy – $100.
5) Chemex Classic Series Glass Coffee Maker –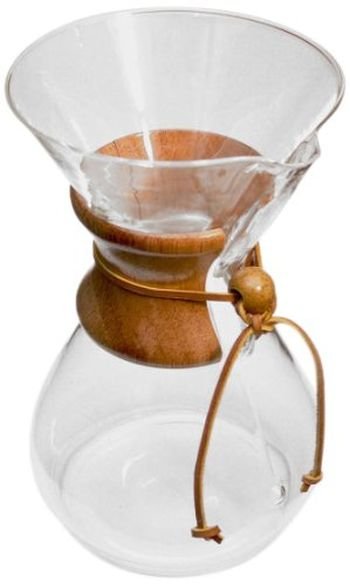 One of the best customer rated coffee makers you can find in the realm of Amazon, the Chemex Classic Series is also counted among the 100 best products ever designed in our modern times by Illinois Institute of Technology.
The standout feature of this aesthetically pleasing contraption is the high quality Chemex filter, which is accompanied by the (chemically inert) hourglass structure that comes with its polished wood collar and leather tie. And of course, all of these aspects are complemented by an electricity-free scope – by virtue of the coffee maker's non-moving parts.
Buy – $63
6) Kernel Filtering Popcorn Bowl –
One of the rare products that bamboozled us just by its sheer simplicity, the Kernel Filtering Popcorn Bowl is exactly what its name implies. Crunchy popcorn and Christmas movies go like ham and cheese; but this scope of crunchiness is sometimes violated by those damned kernels.
Fortunately, the design in question here avoids those potentially painful experiences, by just having a small compartment in the lowest section which is separated by a perforated cover.
The hard kernels simply pass through these perforations, and get collected at the bottom. And furthermore, one can also use the product as a dedicated bowl for other food items like fruits.
Buy – $27.
7) BioLite's KettleCharge –
There are very few devices in the kitchen that can boast of generating usable power. BioLite's KettleCharge belongs to this rare category, with its wondrous capacity to produce power via its thermoelectric generator.
This special generator utilizes heat (or difference in temperatures) to create a clean energy quotient that is applicable for charging mobile devices, and even powering Christmas string lights! And, the practical part entails that you can use a variety of heat sources for creating this crucial temperature difference, including portable stoves and hot plates.
Buy – $150.
8) Florence Infuser Decanter –
Giving wings to the gourmet/artist side inside you, the Florence Infuser Decanter is aptly touted as the means to your "culinary adventure". In essence, the vessel is useful for kitchen crafting a range of aromatic cocktails that include herb oils, wines, lemonades and even specialty tea concoctions.
All of these fusions are achieved by the solvent of your choice (can be wine or tea) being kept inside the vessel, while it naturally extracts the flavor from any suspended herb or plant. And lest we forget, the contraption comes with LEDs to illuminate your food art!
Pre Order – $45.
9) Jumbo Cutlery Drainer –
The predicament of washed cutlery items is how they tend to retain moisture, cleaning detergent spots and even cleaning fluids – when kept in a damp environment.
But a good drainage system can effortlessly solve this problem, and that is exactly what the Jumbo Cutlery Drainer brings to the table (quite literally). Shaped like modernist elephant, the design consists of a drainage 'trunk' that effectively dispenses the excess moisture through droplets with the help of gravity.
In other words, you don't have to worry about the spotlessness of your spoons and fork by clumsily wiping them with dry cloth.
10) Spot-Not wine accessories –
We end our list with the perfectly simple yet innovative solution that takes care of the 'unassailable' inside stains of your delicate wine glasses. The product in question here is the Spot-Not collection which comprises of both a glassware dryer and a decanter dryer.
Both of these items are safe to use, with their effective designs tailored to the fragility of glasses. Moreover, the components flaunt their highly absorbent microfiber drying cloths that are also removable for later machine or hand washing.
Pre Order – $41.