We are not really strangers to weird Christmas decorations. But the above pictured 'Hanging Man' has once again proved to be the alarmingly effective prop – so much so that it had caused quite a scare in the American city of Owasso, Oklahoma.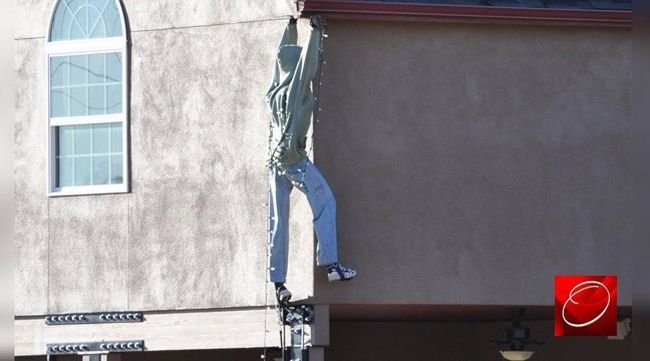 This time around, the 'guilty' party was a house near 145th Street and 89th Street North. The owner did a quite convincing job with his prop decoration, with all the essential fooling items that included hooded sweatshirt, jeans and a pair of tennis shoes. A string of Christmas lights was awkwardly placed around the effigy, which completes the comical pop cultural trope of 'falling down while setting up lights'.
But as we mentioned before, the Owasso Hanging Man did cause some mild embarrassment, with one pedestrian woman calling up the police department on her good conscience, when she noticed the precariously positioned man. Facebook user Owassoisms however made things clear, by declaring the man to be just a harmless prop decoration for upcoming Christmas.
In any case, the concerned women was not too impressed by this prank episode. She went on to solemnly declare –
You always have that person who likes to be different.
Via: NewsOn6