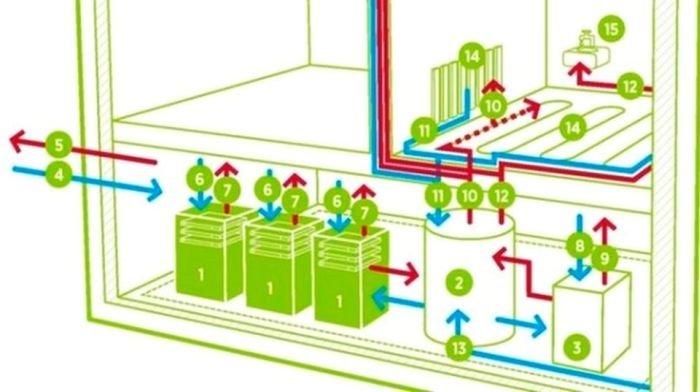 Big ass servers are all good for your online capacity and interaction, but the predicament faced by most cloud service providers pertains the copious heat generated by these bulky machines. Well, Cloud & Heat, a German company has one of those 'one stone, two kills' solutions in the form of their servers being installed inside your house.
In other words, they will make use of your abode's square footage for their hefty yet fireproof server, while you can have the 'usable' heat for free – if you live in a cold country.
Now, as enticing as the proposal may sound, the experts from Cloud & Heat are not just going to walk inside your house and set up their server. Before that you do have meet some criteria – like having a substantially-sized water tank (with capacity 125 and 2,000 liters) that will act as thermal mass.
In addition, you will also need a internet connection speed of over 50Mb/s, a brand-recognized meter for DataSafe, and a breaker panel that can accommodate three 16A circuits.
As for the price of setting up of the server, the company will charge €12,000 (around $14,900) up front. The monetary-oriented advantage you would get out of the deal is that they will pay for the broadband and the electricity bills (along with maintenance) of the machine for at least 15 years.
According to Geek, this comes to around $82 per month, or $14,760 over a period of 15 years. And, the 'piece de resistance' of the scope obviously relates to how you will get the more-or-less 'free' heat.
This ultimately brings us to the question – is the magnitude of a server's heat-waste quantitative enough for our home's heating needs? This arguably depends upon the geographical location of the installation, with Germany's temperate climate just about fitting the bill (as opposed to colder regions).
Furthermore, you also have to consider the hip factor of heating your home with the aid of a full fledged server – a fascinating feat very few people can boast of.